Fading US presidential candidate and conservative darling Newton "Newt" Leroy Gingrich denies that a high percentage of his 1.3 million Twitter followers are bought-and-paid-for fakes, despite reports – and alleged evidence – to the contrary.
"We've never utilized firms, agencies, or outside organizations to inflate Newt's Twitter followers," his press secretary, R.C. Hammond, told ABC News.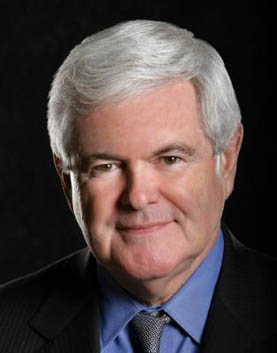 Newt Gingrich
Hammond's statement came in response to accusations from an unnamed former Gingrich staffer, who told Gawker on Monday: "Newt employs a variety of agencies whose sole purpose is to procure Twitter followers for people who are shallow/insecure/unpopular enough to pay for them."
Newt's Twitter following certainly seems excessive. As of Tuesday, his personal account, @newtgingrich, had 1,325,895 followers – which massively overwhelms his presidential campaign account, @Newt2012HQ, which has a mere 5,752 followers.
The presidential challenger has even taken to bragging about his Twitter popularity. "I have six times as many Twitter followers as all the other candidates combined, but it didn't count because if it counted I'd still be a candidate; since I can't be a candidate that can't count," he told one Georgia newspaper.
Newt's followership certainly outshines those of his conservative bedfellows. @SarahPalinUSA has 619,312 followers; @MicheleBachmann, 66,567; @THEHermanCain, 51,988; @timpawlenty, 45,480; @RonPaul, 18,678; and @RickSantorum, 13,468.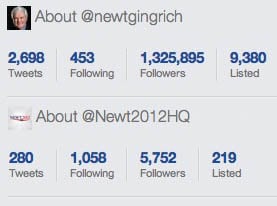 Newt's personal followers are 230X his campaign's
But according to Gawker's source, about 80 percent of Newt's followers are inactive accounts or dummy accounts created by "follow agencies"
On Tuesday, the data-analytics firm PeekYou said that according to a study that they were already conducting, which uses algorithmic web-activity name analysis to examine the validity of 2012 presidential candidates, Gawker's source actually overestimated the number of Gingrich's true followers.
"Out of Newt's 1.3 million followers only 8 percent (2 percent less than claimed in recent media reports), are identified by our algorithm as humans," said PeekYou CEO and founder Michael Hussey, "meaning Newt's follower count is really closer to 106,055."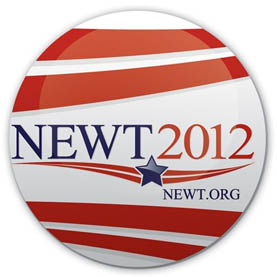 Possibly doomed to 'collectors-item' status
There is, however, one argument that the Gingrich camp can justly invoke in support of the Newtster having over 1.3 million followers: his early inclusion on Twitter's since-discontinued Suggested User List, from which he is reported to have garnered a million followers even before he began his 2012 campaign.
That's a good argument, but Newt is currently on Twitter's Who to follow list for twitterati interested in government – and among those recommended luminaries, the far more headline-resident House Speaker John Boehner has a mere 198,993 followers at @SpeakerBoehner.
This all may end up being a mere tempest in a Gawker-stirred Twitter-pot, but such accusations are not something that can be helpful to Gingrich's floundering campaign, which has suffered both from inserting his own foot into his own mouth while infuriating the rightest of his party's right wing, and from the resignation of his entire campaign staff.
It can't be a happy time for Newt when even the right-leaning Rasmussen Reports polling outfit publishes results showing that a majority of US voters think Hillary Clinton would make a better president than he. ®