It's half an hour on the naughty step today for London's Metropolitan and City Police's Project Griffin team for resorting to Wikipedia in the struggle to contain the anarchist menace.
In case you're wondering, Project Griffin is a collaborative effort "to familiarise managers, security officers and employees of large public and private sector organisations across the capital on security, counter-terrorism and crime prevention issues".
Naturally, it's always handy to know your enemy, especially when your "Beech [sic] Volleyball" event may be under threat from shouty, malodorous scruffs leading dogs on string.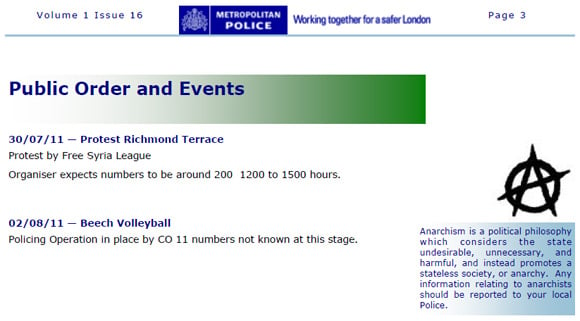 That's a grab from the latest Griffin Briefing, and you're invited to peruse the Wikipedia entry on anarchism right here.
To save the Project Griffin anti-terror plods valuable time in future threat bulletins, we direct them to the Wikipedia entries on Taliban, al-Qaeda, photographers, Rebekah Brooks and beach volleyball. ®