IRISnotes Executive 1.0 digital pen
Knows your writes
Review Composed of standard looking battery-powered pen and rechargeable receiver module, the IRISNotes Executive aims to relieve some of the tedium of transcribing handwritten notes by converting your scribblings into useable text and drawings.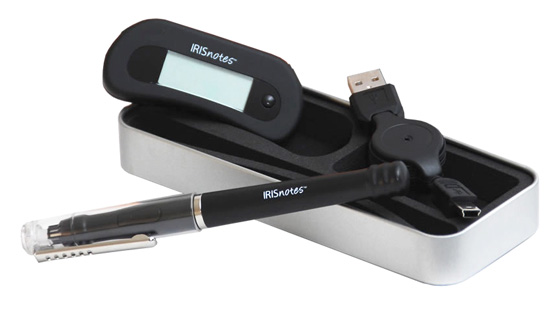 Pen pal: IRISnotes Executive 1.0
Designed to work independently of your PC or Mac, you attach the receiver unit to the top of your page - either centred or in a dog-ear position at either corner - hit the button on the unit to tell it you're starting a new page, and then begin your epic novel.
The receiver unit tracks the head of the pen, which is fitted with a standard mini-refill, across the page; somehow it determines when ball-point is actually touching the page, storing your strokes as you go. The unit claims to be able to store around 100 A4 pages of written text, but to be honest fatigue meant my testing never went beyond 25 pages.
The one big advantage the IRISNotes has over alternative systems, such as LiveScribe's Smartpen is that it doesn't require pre-printed pages – any old A4 pad will do. Once you've finished your writing session, you plug the receiver unit into your computer from a mini-USB cable (which also charges it).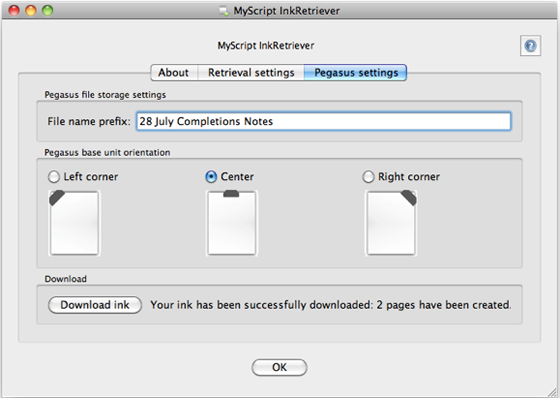 MyScript downloads the content captured by the pen
The IRISNotes software auto-detects the device, and offers to capture the pages from the device for you – select which orientation you had the receiver place in (middle, left-, or right-corner) and hit the "Download Ink" button. Your copy is then downloaded (and deleted from the receiver if you so choose), saved to a pre-selected folder, and opened in the IRISNotes Executive application. At this point, your notes are still held in a hand-written image form.