This article is more than 1 year old
Google waggles free* Android phones at Americans
* 2-year wireless and small piece of your soul required
Google is offering Americans a free Nexus S Android phone from its rather popular homepage.
The offer lasts through the end of today (August 3). And you must agree to a two year wireless contract with an American wireless carrier. And you must agree to share yourself with Google.
The Nexus S is an Android phone whose software is designed solely by Google. Google calls it a "pure Google experience". It's the first Android phone to include an NFC (near field communications) chip that allows for wireless payments through the Google Wallet service.
It would appear that Google is trying to win a few more Android converts before the arrival of the next Apple iPhone, whose touchdown is rumored for next month.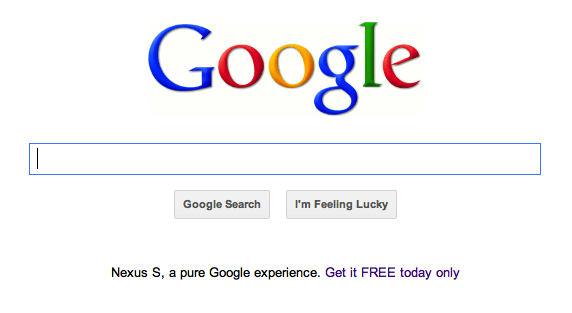 The free handset is offered through the US retailer Best Buy, and it can be used with networks from three of the four big American carriers: Sprint, AT&T, and T-Mobile.
The Nexus S runs Gingerbread, the latest incarnation of Android for phones, atop a 1Ghz Hummingbird processor, 16GB of internal memory, and a dedicated GPU. Its contoured display measures 4-inches across the diagonal, and it offers both rear- and front-facing cameras. ®