OCZ jumps harder on enterprise PCIe bandwagon
Z-Drive R4 beefs VeloDrive, RevoDrive
---
OCZ has announced its third Z-drive refresh in two years, with the Z-Drive R4 going more than four times faster than the first version product.
The company has three PCIe flash drives: the RevoDrive is for workstations and NAS servers; the VeloDrive is for small and medium business and system integrators; while the Z_Drive is a full-on enterprise drive. The R4 iteration was first seen at Computex in May. All three products use 2-bit multi-level cell (MLC) flash and SandForce SSD controllers with OCZ VCA (Virtualised Controller Architecture) 2.0 software managing the whole thing.
The Z-Drive R4 comes with in R Series guise with polymer capacitor-based powerloss protection and over-provisioning, or C Series form with neither. Both use Micron NAND, built on a 25nm process most likely but possibly on the newer 20nm one.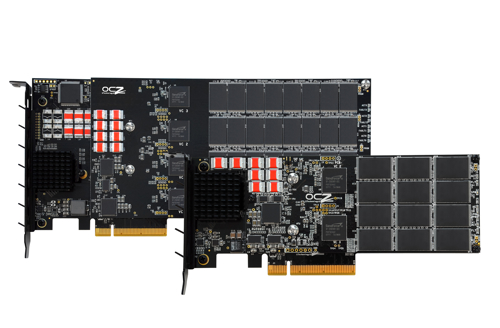 OCZ's Z-Drive R4 PCIe flash drive
OCZ has PCIe flash drive industry leader Fusion-io firmly in its sights and says that company's ioDrive products use a less advanced 39-30nm process technology that is costlier on a per-die basis. OCZ reckons its 2Xnm process NAND is up to 30 per cent less expensive than the Fusion-io 3Xnm process stuff. Single level cell NAND is available as well.
OCZ says the R Series R4, storing from 800GB to 3.2TB of data, does up to 410,000 random read and write IOPS with 4K blocks and has a 2.8GB/sec sequential read and write bandwidth. There are eight SandForce SF-2582 SSD controllers in a RAID 0 configuration, and an overall OCZ SuperScale controller. The product supports TRIM and SMART, comes in either full height or half-height versions, and has dual ports.
The C Series' capacity ranges from 460GB to 3.84TB.
In terms of technology refresh and product announcement rates OCZ is demonstrating more momentum across the various flash form factors than any other supplier. Apart from Agility and Vertex SSD problems OCZ looks to be on a flash roll.
The Z-Drive is available now but pricing was not revealed. ®