Review Patriot Memory's latest Wildfire Sata 3 SSDs come with the promise of read and write speeds in excess of 500MB/s along with read and write IOPS in the 60K region. All of this blazing speed is available in 120GB (£240), 240GB (£420) and 480GB capacities – a 60GB version is in production, but not currently available in the UK.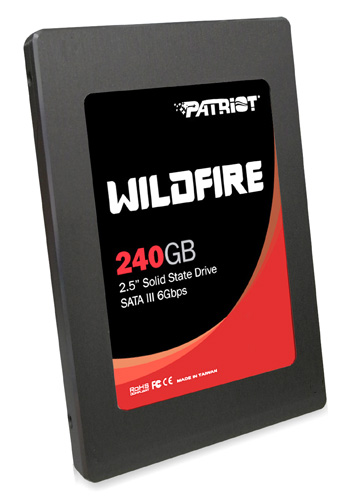 Life in the fast lane: Patriot Memory's Wildfire
The 120GB drive I have here for review is an engineering sample, but I am assured that purchasers of the retail product will receive the usual complement of proper packaging and 3.5in drive bay adapter.
Delivering on Patriot's promises is a SandForce SF-2281 controller, much like that found in OCZ's Vertex 3. The Wildfire is, theoretically, the fastest drive I've ever had on my test rig, so I was certainly keen to see how it performed.
Crystal DiskMark and AS SSD test revealed some very impressive read numbers around the 375MB/s mark, even if it wasn't the promised 500MB/s. ATTO took those numbers even higher, up to 415MB/s with 4MB blocks. However, when it came to read performance, I have to admit I was disappointed to see numbers topping out at 210MB/s, less than half of what I should have been seeing.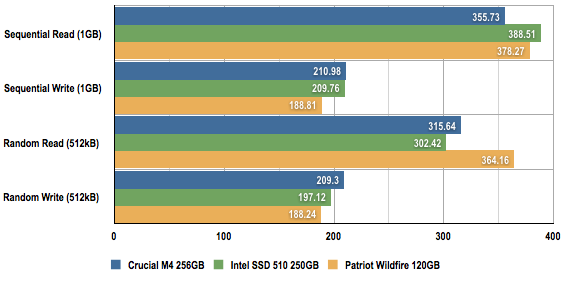 CrystalDiskMark test results
Longer bars are better
At this point I started to wonder if I had reached some kind of limit on my system, but I've seen higher numbers on Marvell based SATA 3Gb/s drives. So I'm inclined to think my rig might not be particularly SandForce-friendly as, given the right hardware, reports suggest this drive does indeed deliver on its promises.