Microsoft skewers Google's anti-Android conspiracy claim
Email shows Google declined joint bid for Novell patents
---
Updated Microsoft has hit back at Google's claim that Redmond teamed with Apple and Oracle in some sort of patent conspiracy against Android, revealing that it offered Google the opportunity to join a bid for Novell's patent portfolio, and producing an email in which a Google general counsel declines the offer.
On Wednesday, Google chief counsel David Drummond unloaded a blog post that accused Microsoft, Apple, and Oracle of waging a "hostile, organized campaign" against Android with "bogus patents". His first piece of purported evidence was that Google's three rivals were behind a consortium that purchased hundreds of patents from the Linux-happy Novell.
But a few hours later, Remond chief counsel Brad Smith refuted Drummond's claims with a post on Twitter. "Google says we bought Novell patents to keep them from Google. Really?" he tweeted. "We asked them to bid jointly with us. They said no."
The Microsoft's top PR man, Frank X. Shaw, then unloaded the October email from Google general counsel Kent Walker that declined the offer. "After talking with people here, it sounds as though for various reasons a joint bid wouldn't be advisable for us on this one," Walker wrote. "But I appreciate your flagging it, and we're open to discussing other similar opportunities in the future."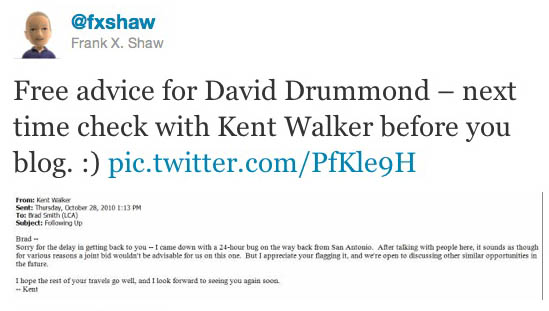 Shaw's tweet of Walker's email ruined Drummond's day
Shaw provided a bit of color as well. "Free advice for David Drummond – next time check with Kent Walker before you blog. :)," he said.
Google has not responded to our request for comment on the Microsoft tweets. And it's unclear if Microsoft actually offered terms for a joint bid on Novell's patents.
But even before Microsoft revealed Walker's email, Drummond's blog post came across as something close to ridiculous. There has been no indiction that the Novell patents were purchased specifically to attack Android, and the DoJ has already reworked the sale in an effort to protect open source software and Linux in general – as Drummond points out in his own post.
Drummond goes on to argue that Apple and Microsoft joined forces to keep Nortel and Novell's old patent portfolio from Google, complaining that the consortium backed by the two companies paid $4.5 billion for the patents, nearly five times more than the pre-auction estimate. And he howls that Microsoft and Apple are suing various Android hardware manufacturers for patent infringement.
But this is surely what you would expect to happen when Google answered the iPhone and Windows Mobile with a free Linux-based operating system. And as others point out, Google helped set the Nortel pre-auction price, and it apparently bid over $3.14 billion for the portfolio.
Google's chief counsel may be arguing that all software patents are "bogus". But not all are bogus in the eyes of the law. Google knows this full well, and so do the rest of us. At the very least, Drummond's blog post is pointless. At the very least. ®
Update
About half-past noon on Thursday, Pacific Time, Google's David Drummond added an update to his Wednesday "bogus patents" blog post. "It's not surprising that Microsoft would want to divert attention by pushing a false 'gotcha!' while failing to address the substance of the issues we raised," he writes.
Drummond contends in his update that it's perfectly obvious why Google did not join with Microsoft in the Novell-patent deal:
Microsoft's objective has been to keep from Google and Android device-makers any patents that might be used to defend against their attacks. A joint acquisition of the Novell patents that gave all parties a license would have eliminated any protection these patents could offer to Android against attacks from Microsoft and its bidding partners. Making sure that we would be unable to assert these patents to defend Android – and having us pay for the privilege – must have seemed like an ingenious strategy to them. We didn't fall for it.
The plot thickens. And that thickening is increasingly making the whole Googly stew quite opaque, indeed.