This article is more than 1 year old
Samsung Galaxy Tab 10.1
Bigger, better, thinner, lighter
Touchy feely
On that note, another default feature that I disabled within a minute of switching the unit on was the 'Haptic feedback'. This is the teensy little vibration that meets every touch on the software keypad and certain other interface actions. God I hate that. It's like having your ears flicked endlessly by someone sitting behind you during morning assembly. However, rather than having to stand up, turn around and punch the fucker in the face, you can much more conveniently make the Galaxy Tab stop annoying you by unticking a system setting.
Another item on my To Disable list was the excrutiating and frankly childish 'swish' sound produced by turning a virtual page in the ebook player. But I digress: back to the hardware.

Definitely the thinnest Android tablet we've tested to date, at 8.6mm
The Galaxy Tab 10.1 is the lightest (565g) and thinnest (8.6mm) 10in tablet Reg Hardware has tested to date. It's what I've heard referred to as a 'one-hander' in that you can hold up the tablet in only one hand for more than a minute without getting cramp. This is not a problem I have ever suffered from personally speaking (it's the karate training) but I believe this could be a serious selling point for potential tablet buyers.
Also, Samsung's build quality looks good. The tablet feels strong and solid, despite its light weight: certainly stiffer than the plasticky, slightly bendy feel of certain competitive tablets. That said, the Galaxy Tab 10.1 is about half a centimetre taller and wider than the Motorola Xoom, a tablet that's as solid as a cast iron manhole cover.
The common assumption is that the bulk of the weight of a tablet, as with a mobile phone, is determined by the battery. Yet the Galaxy Tab 10.1's battery life is as good as that of its competitors: I estimate that it runs for around 7 to 11 hours of mixed app and media use between full recharges.
Perhaps the answer lies in the Galaxy Tab 10.1's lack of external hardware. There is a single connector which, via a supplied adapter cable, leads to a USB 2.0 plug for recharging the battery and, one assumes, connecting to other USB devices. I say "assumes" because my direct attempts to connect to a Mac and a Windows PC using this USB adapter cable achieved no success whatsoever. Later, I found that I needed to download special Samsung drivers to my computers to enable a USB connection with the tablet.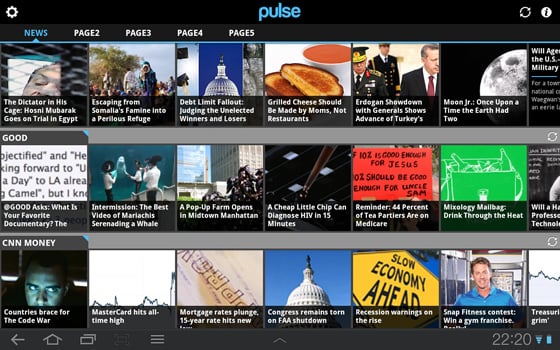 Samsung bundles the Pulse app which makes sure you know what's going on – in America. Bandit Keith would love it
Otherwise, all connectivity is channelled wirelessly through WiFi and Bluetooth on the product as reviewed. There is no mini-USB port, no mini-VGA, no HDMI and, incidentally, no SD card socket. As with Apple's iPads, the Galaxy Tab 10.1 is not designed to support user-upgradable/removable storage. Bear this is mind when choosing which model to buy; I reviewed the entry-level 16GB model. Like Apple, Samsung off-loads its additional connectivity with a range of accessories. USB storage and devices can be accommodated with the EPL-1PL0BEG adapter, likewise, HDMI needs the EPL-3PHPBEG interface cable. And if you want a keyboard you can splash out for the ECR-K14AWEG option too.