This article is more than 1 year old
Samsung Galaxy Tab 10.1
Bigger, better, thinner, lighter
Reading matters
A couple of items Samsung remembered to include were the front and rear-facing cameras, capable of still image and video capture. The camera on the rear is accompanied by an LED flash. Also, the tablet is fitted with stereo speakers, a built-in mic and of course a stereo mini-jack for your earphones.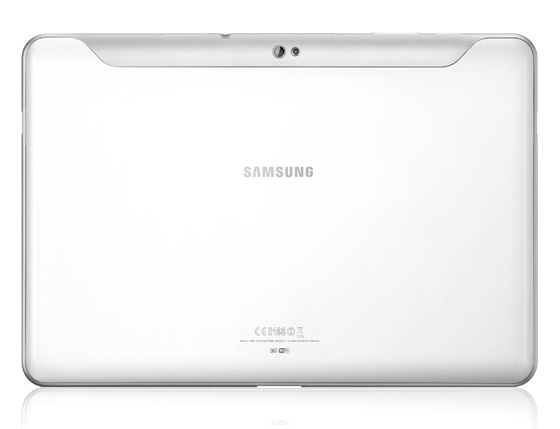 The main camera supports 3Mp capture with auto-focus and LED flash
Owners of the 7in Galaxy Tab complained that they kept pressing the buttons accidentally because of their side location and light touch. The 10.1 version only has two: a power button and an audio volume button, and they are both stiffer and snappier in action, better to resist those accidental presses.
Samsung has done a nice job of customising Android 3.x with a decent collection of apps and extras. The inclusion of Word/Excel/PowerPoint-compatible Polaris Office is valuable, for example, as is the set of pop-up utilities that can be invoked at any screen, even within another app.
Even Samsung's no-frills ebook reader has been improved, and I was impressed that once I had added the Gutenberg Project and Stanza as sample ebook stores, all I had to do was tap on an ePub download link once. The process of downloading, installing and opening the book in the app was then completely automatic and apparently seamless.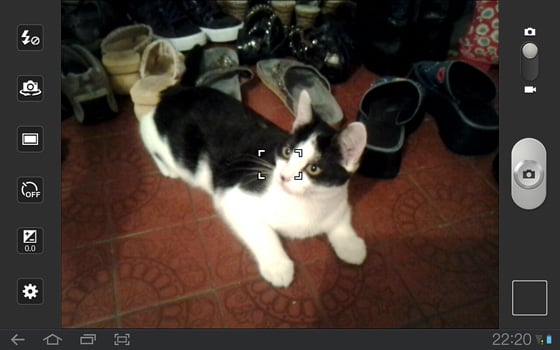 It may be unfair to test the camera on a lively kitten, but I found it hard to focus on anything except in bright daylight.
Video playback is good too, although I don't follow Samsung's assertion that the Galaxy Tab 10.1 supports 'full HD 1080p'. As I understand it, 'full HD 1080p' designates a resolution of 1920 x 1080 pixels at 30 progressive fps. Quite how this would be achieved on a 1280 x 800-pixel screen is a mystery to me. Given the HDMI adapter accessory option, Samsung's take is presumably all related to delivering a video output at this resolution to an external screen.