This article is more than 1 year old
Samsung Galaxy Tab 10.1
Bigger, better, thinner, lighter
Manual dexterity
Disappointingly, there was no video editing software installed on my test unit, although the electronic user manual suggests it should be on there – and acutally finding the electronic user manual was a challenge in itself.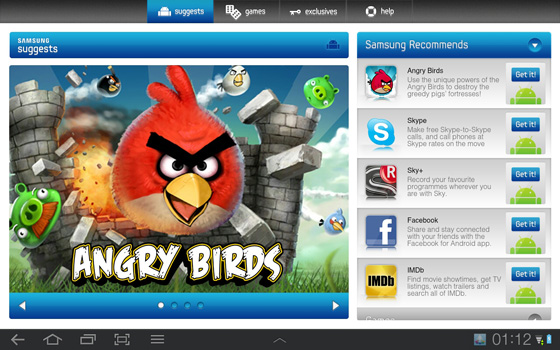 Let's see what Samsung's Hub app suggests we should be doing. Oh...
Out of the box, the tablet comes with possibly the worst 'getting started' booklet I have ever read. As an example, the section headed 'Send and receive an email message' reads: 'You can send and receive email messages, and view or manage messages you have sent or received.' And that's all you get: there are no actual instructions on how to use the Galaxy Tab 10.1 to send or receive email.
The booklet does, however, waste seven pages on daft safety warnings, including my favourite: 'Do not bite or suck on the device or the battery.' The last 13 pages at the back of the booklet are blank.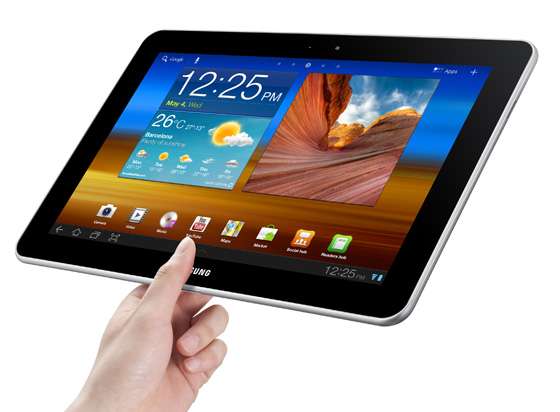 This is a tablet you can hold in one hand without getting cramp in 30 seconds.
The front page suggests I can read the full user guide by going to www.samsung.com. I did that and all I saw was a lot of information about washing machines and TV sets. Even the day before its official on-sale date (when this review was written), the product was unknown on Samsung's UK website. I eventually found a link to the Galaxy Tab 10.1 user manual tucked away on a US support page, but it took some hunting.
Verdict
The Galaxy Tab 10.1 is an attractive purchase: it's well-built, slim and light, has a valuable collection of quality apps, and sports a comparatively low price. It even fares well in performance benchmark tests against its competitors. However, some of these competitors offer better value by building memory card slots and comms ports into tablets costing roughly the same price. Here, Samsung takes yet another leaf out of Apple's book, as all those niceties will cost you extra. ®
More Tablet Reviews

Dell
Streak 7
HP
TouchPad
Lenovo
Thinkpad X220T
RIM
BlackBerry
PlayBook
Apple
iPad 2

Samsung Galaxy Tab 10.1
Slim, lightweight 10.1in tablet with the latest Android OS on-board.