SMART unveils smarter, faster, fatter SSDs
'How much for the 1.6TB baby? We're not saying'
---
Move over Violin, OCZ, Seagate, Intel, et al. SMART Modular Technologies is crowing that it's now number one in the notebook-format flash drive space, having just introduced its new Optimus solid state drive, which it calls "the world's fastest multi-level cell and highest capacity SAS SSD."
The 2.5-inch Optimus uses 2-bit multi-level cell NAND, and comes in capacities of 200, 400, or 800GB, plus a whopping 1.6TB. It does 100,000 random read IOPS, 50,000 random writes IOPS, and can run at 500MB/sec doing sustained writes or reads.
Indeed, SMART claims that the Optimus can do up to 1GB/sec with wide-port I/O, that these I/O rates will be consistent over the life of the product, and that it snags the performance crown "based on overall performance using a combination of metrics."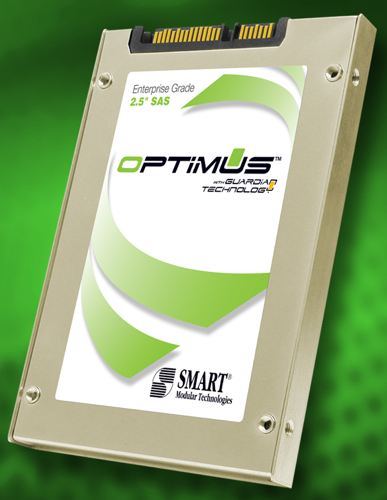 SMART Optimus SSD
That get-out is just as well, as Corsair's Force Series 3 does 550MB/sec sequential read and 520MB/sec sequential write through its 6Gbit/s SATA interface. OCZ's Vertex 3 Max IOPS does 550MB/sec sequential reads and 500MB/sec sequential writes through its 6Gbit/s SATA port, too.
SanDisk's 2-bit MLC Lightning can do 110,000 sustained random read IOPS through a 6Gbit/s SAS interface, but only reaches 360MB/sec. No other supplier matches SMART's combination of IOPS and MB/sec, however – for now, at least – but we are in a game of flash-performance leapfrog.
The Optimus has full-duplex, dual-port, 6Gbit/s SAS interfaces, and SMART says it can do 10 full-capacity writes a day for five years.
Like other suppliers, SMART is branding aspects of its controller technology. There is FlashGuard, which uses signal processing to better read flash cells, like Anobit and also now STEC. It gets the endurance rating up such that SMART can offer a five-year warranty with the 10 full writes a day usage rate.
DataGuard protects the data path and manages page or block failure. EverGuard provides 24 x 7 backup-power circuitry.
Full T10 Dif data path protection and TCG enterprise encryption are included.
The Optimus SSD will be going to customers in sample form in September. SMART is not yet revealing pricing, but SVP and general manager John Scaramuzzo says that it will be "at a value point that we expect will accelerate SSD adoption in the enterprise." ®
Similar topics
Broader topics