Two-thirds of you don't like using cash, and one in eight has stopped carrying it entirely, according to Barclays, which (unsurprisingly) reckon cards are the way of the future.
The research was done by Populus who, at the behest of Barclays and Barclaycard, interviewed 2,000 people and discovered that the average UK wallet contains £23, but that half of us discard pennies and tuppences as pointless, and a third have refused to buy cheap things for fear of breaking a note.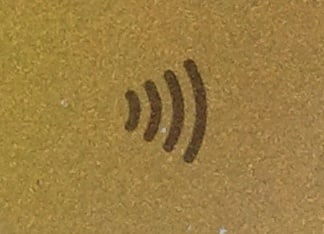 Forty-four per cent of you know what this means, the rest are presumably looking for a Wi-Fi point
By an amazing coincidence, Barclays and Barclaycard have a solution to our problem: proximity payment cards. Credit cards won't spoil the line of our clothing (cited by 9 per cent as the reason for not carrying cash) and will track every penny we spend too (which 17 per cent said was a key advantage).
Personally your correspondent doesn't carry cash 'cos of the holes in his pockets, sadly they're large enough to lose a credit card through too.
Even better news for the banks is that almost half of consumers now know what the logo that's been appearing on their cards means: 44 per cent of them now know that the lines represent contactless payment, and 65 per cent are aware that cards in general are capable of such a thing.
Some will no doubt be returning their cards, just like those who refused to have their debit cards combined with their cheque guarantee cards back when that was the hot issue, but that will be a decreasing minority.
The banks and retailers are obviously doing a good job explaining that it is to our advantage to get rid of cash, rather than just to their advantage for us to do so. ®