This article is more than 1 year old
Google points finger at human after robo car accident
Auto not on auto. Apparently
One of Google's self-driving cars has driven into another car. But Google says it wasn't driving itself at the time.
As first revealed on Jalopnik, a Google robo-Prius hit someone else's non-robo Prius earlier this week. But according to a Google spokesman, the accident occurred while a human was driving the Googly automobile. "Safety is our top priority," he told us. "One of our goals is to prevent fender-benders like this one, which occurred while a person was manually driving the car."
The spokesman also said that the company's fleet of robo cars has traveled 160,000 miles autonomously "without incident". This week's accident occurred in Mountain View.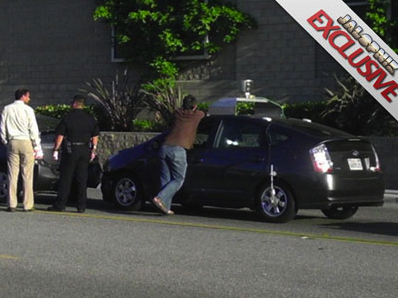 Google fender bender
Google revealed the existence of its self-driving cars this past October, after the robo autos had already logged over 140,000 on public roads. Each car is equipped with video cameras, radar sensors, and a laser range finder that identifies other traffic. They find their way using maps previously collected by cars driven in more traditional ways – i.e., with a human at wheel.
Though the cars can drive completely on their own, Google says they never go out on the road unmanned. A human always sits in the driver seat and can override the automated controls at any time. With this fallback in place, the California Department of Motor Vehicles has deemed the cars legal, as has the state of Nevada.
Of course, the fallback is flawed. But that suits Google just fine. ®