NASA's Juno spacecraft blasted off this afternoon from Cape Canaveral Air Force Station at the beginning of its five-year journey to Jupiter.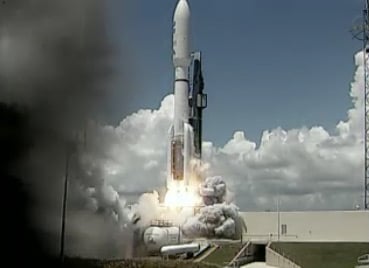 The 4-ton Juno rose heavenwards at 16:25 GMT atop a bloody big United Launch Alliance Atlas V 551 rocket, boasting a quintet of solid booster strap-ons. Despite this extra lifting grunt, Juno will still require a flyby of Earth to slingshot it on its way.
Juno will orbit Jupiter's poles 33 times, grabbing stills images for the viewing pleasure of Earthlings, while mapping the planet's magnetic field and peering beneath its turbulent atmosphere in search of a possible solid core.
Scott Bolton, Juno principal investigator, said of the mission: "The special thing about Juno is we're really looking at one of the first steps, the earliest time in our solar system's history. Right after the sun formed, what happened that allowed the planets to form and why are the planets a slightly different composition than the Sun?"
Juno relies on solar panels for its power, and at such a disance from the Sun, needs a lot of panel area to feed its systems. NASA explains: "Three solar panels extend outward from Juno's hexagonal body, giving the overall spacecraft a span of more than 66 feet (20 metres). The solar panels will remain in sunlight continuously from launch through end of mission, except for a few minutes during the Earth flyby."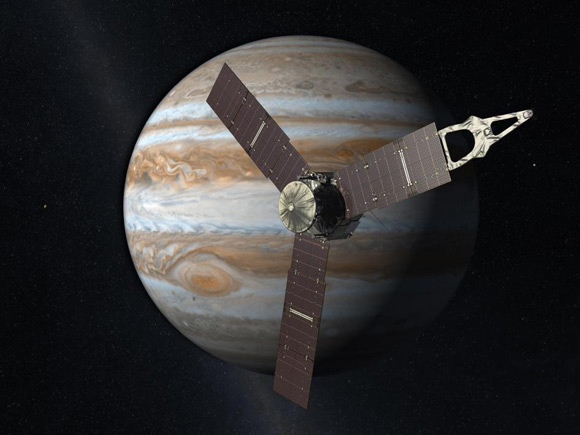 It adds: "The mission's power needs are modest, with science instruments requiring full power for only about six hours out of each 11-day orbit (during the period near closest approach to the planet). With a mission design that avoids any eclipses by Jupiter, minimizes damaging radiation exposure and allows all science measurements to be taken with the solar panels facing the sun, solar power is a perfect fit for Juno."
Despite an orbital trajectory which will dodge Jupiter's radiation belts – described as "analogous to Earth's Van Allen belts, but far more deadly" – Juno will rely on a "radiation shielded electronics vault" to keep vital systems safe from exposure.
NASA notes: "This feature of the mission is relevant to NASA's Vision for Space Exploration, which addresses the need for protection against harsh radiation in space environments beyond the safety of low-Earth orbit." ®
Bootnote
Juno's instrument package comprises:
a gravity/radio science system;
a six-wavelength microwave radiometer for atmospheric sounding and composition;
a vector magnetometer;
plasma and energetic particle detectors;
a radio/plasma wave experiment;
an ultraviolet imager/spectrometer; and
an infrared imager/spectrometer.