Spanish bog roll outfit Renova has come up with a novel way for locals to welcome Pope Benny 16 to Madrid later this month – a limited-editon arse paper combo in a fetching Vatican colour scheme.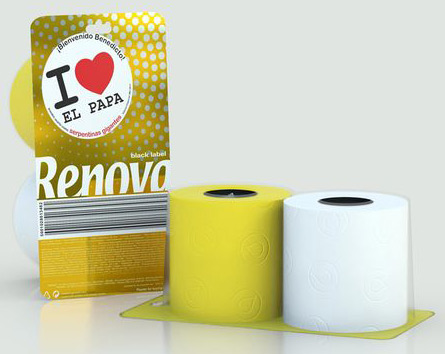 The company's blurb explains that the Papal toilet roll will be rolled out for the World Youth Day celebrations, running from 16 to 21 August in Spain's capital. His Holiness touches down at the city's Barajas airport on the 18th, and Renova wants true believers to launch toilet paper streamers from bridges along his planned route.
It says: "Is there any better way to liven up the streets than using these large streamers with the Vatican's colour-scheme? Open your windows to celebrate! Welcome Pope Benedict!"
Of course, anyone overcome by the emotion of the Catholic Church's supreme head honcho cruising Madrid will have something to hand if they decide to excitedly open their bowels in celebration.
Renova is apparently handing out 7,000 free rolls of holy bath tissue, although it is available to buy if you don't want to miss out. And before the Satanists among you start whining about Christian bias in the toilet paper manufacturing sector, you're directed here. ®