Good customs
Compared to other Nikon DSLRs, the D5100 has a slightly different button layout, losing the row of buttons on the left of the screen to make space for the hinges of the vary-angle LCD, but I found the re-design easier to operate with one hand, since most controls are now within reach of the right thumb and index finger. Another significant change to Nikon's usual design is the addition of an Effects tab in the top shooting mode dial, providing immediate access to the seven different filters on offer.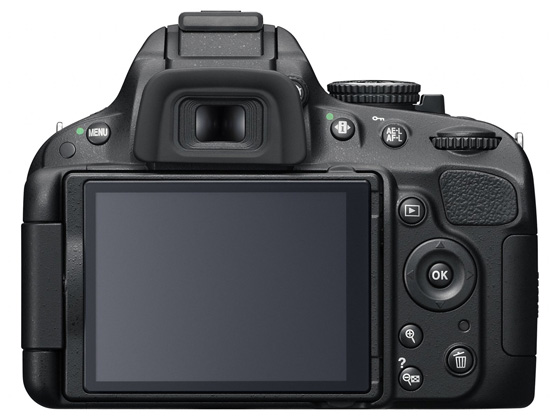 Information on articulating display takes on some of the function access duties
In line with current trend, the D5100 uses the LCD screen to display camera information but also as a quick menu to change the camera's main shooting parameters such as ISO, White Balance, Autofocus, Drive and Metering. The only problem I envisage is that the lack of dedicated buttons for essential settings might put off manual and semi-manual users. The full menu is, as all Nikons, comprehensive and easy to navigate but the Menu button has relocated to the left of the viewfinder.
I was quite impressed by the level of customisation offered by the D5100, a clear indication of Nikon wanting to keep a hold on the advanced users market. The many custom settings now get their own menu with separate categories set according to function and easily identifiable through different colours, a simple and effective organisation.
The two most remarkable performance improvements brought by the new Expeed 2 processor are battery life, which in my test even exceeded Nikon's own reported 660 shots per charge, and Live View autofocus. The Nikon D5100's 11-point AF system offers reliable if not exceptionally fast autofocus coverage across the frame.
With a few exceptions, Nikon DSLRs lack a built-in AF motor so, to a degree, autofocus speed depends on the lens and the 18-55mm provided in the kit is not the fastest zoom. That said, the D5100 does achieve the fastest Live View autofocus I have yet used in a Nikon DSLR – which was a pleasant surprise as my experience of the company's LV AF systems has found them to be somewhat sluggish.