Attention to detail
3D tracking performs reasonably well although is not as consistent as the D7000. This is probably due to the D5100 relying on brightness and colour data captured by a 420-pixel RGB sensor as opposed to the 2,016-pixel RGB sensor showed off by the D7000. In other respects, speed results between the D5000 and the D5100 are not much changed, with continuous shooting still at 4fps albeit with an increased buffer capacity of up to 16 frames in RAW or 100 JPEG's in a burst.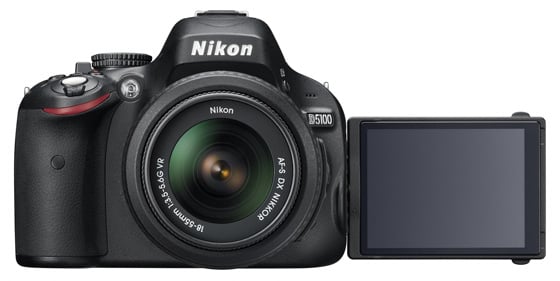 Hinged on the side, the display is more versatile for video use
Image quality comes very close to that of the D7000 with pictures showing very good level of detail and wide dynamic range. Colours are natural yet rich, with beautiful saturation and punch. Metering was mostly spot on, although the camera has a tendency to slightly over-expose skies in certain situations, as the prevalently light colours massage-scene test image shows. I found the D5100 exceptionally well-suited to portraits, as skin tone is realistic but retains brightness and warmth. White Balance was consistent and accurate in all situations including fluorescent lighting and indoor scenes.
The D5100 sports a much broader ISO scale than its predecessor, with native sensitivities ranging from ISO 200 to ISO 3200 but expandable to ISO 100 and ISO 6400 equivalent. If you push the EV you even can take shots up to 25600 – see the ISO test downloads in the sample images section. Push shots aside, noise performance is very good throughout the range, even at the highest sensitivities. There is very little colour noise too, which is the most annoying kind. Moreover, the camera does not heavily rely on noise-reduction, and consequently doesn't suffer much from loss of detail at the far end of the ISO scale.
Nikon seems to have finally acknowledged a fun-hungry crowd among the enthusiast DSLR users and obliged by including fashionable features such as HDR capture and a seven filters that can be applied to both stills and videos when in Effects mode. Apart from the more conventional High-Key, Low-Key, Silhouette, Miniature and Colour Sketch there is a couple of unusual ones. Selective Colour allows you to select the colours you want to highlight in an image while all the others are desaturated.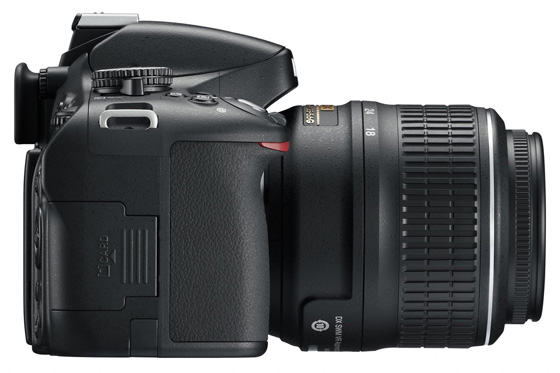 Lens machinations affect video sound recording, but there is an external mic input too
Night Vision mode instead further extends the sensitivity range to a maximum of ISO 102,400 equivalent, but the top setting is only available in monochromatic capture. HDR works reasonably well, the only drawback being that the function – once enabled through the shooting menu – does not stay on for longer than one shot. So, to shoot in HDR mode, you need go back to the menu every single time you take a shot.