BBC bigs up iPlayer for TVs and consoles
PS3 gets first look
---
The BBC has tweaked its iPlayer for TVs and set-top boxes, launching the "custom-built for the living room" redesign through Sony's PlayStation 3.
The look was designed specifically for big screens and comes with a host of fresh features and personalisation options.
These include an improved search engine, the ability to favourite programmes as well as recommendations based on the content you watch.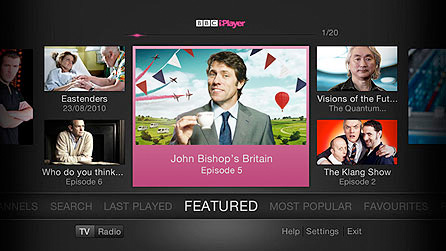 Beeb General Manager Daniel Danker had this to say on the update,
"With today's announcement, we're transforming iPlayer in its most natural home: right on the living room TV. By creating a product that's as simple and intuitive as flicking through TV channels, the BBC is bringing on-demand television to mainstream audiences across the UK."
The HTML 5-based player launches on PS3 today. It will hit connected television sets in the coming months. For further information, including a video demonstration, check out the BBC Internet Blog. ®
Similar topics
Broader topics