Ofcom's annual assessment of communication industry shows that mobile revenue is still way down on 2008, but usage is way up, forcing operators to find new ways to cut costs and increase revenues.
Users are more attached to their handset than ever, with around half of smartphone owners counting themselves "addicted", but despite users needing a mobile fix every five minutes, that activity isn't making the operator any money. As Ofcom's annual report starkly shows, it's Google and Facebook who are winning from the mobile revolution, and it's only competitive pressure that keeps the UK's networks running at all.
Total mobile revenue did go up during 2010 – by a single percentage point – but that followed a five per cent drop the previous year and was accompanied by a 67 per cent increase in the amount of data the operators carried as social networking and e-mail became handset activities.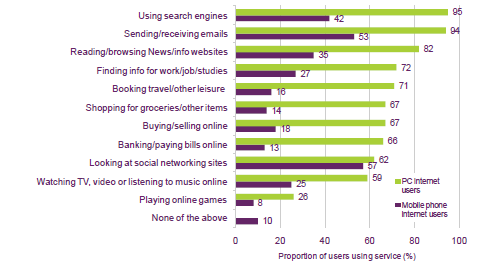 Comparison of sites visited by PC and mobile users
But those providing the end service are doing OK. Advertising pushed to UK mobile phones generated £83m in 2010. Small potatoes when compared to online advertising (which totalled £4.1bn in 2010), but growing fast. The majority of that is still coming from search results – £54.9bn – but banner ads are starting to make an impression, generating £23.7m during the year.
That's income for Google and Facebook respectively. There are other search engines and social networks, but they don't concern us here. 9.5 million different people used Google from a mobile phone in 2010, if Ofcom is to be believed, while 7.5 million of us checked Facebook that way. The next biggest is the BBC, at 3.7m.
The good news – for those making money out of advertising – is that the industry is diversifying. Previously one would only get adverts for films and music, but media advertising now only makes up 33 per cent of the total, compared to 62 per cent in 2009. Now we're equally likely to see adverts for cheap loans (financial, up from 8 to 19 per cent) or electronics (from 3 to 12 per cent, though most of that is probably other smartphones).
None of that money comes to the operators, who handled 125 billion minutes of calling in 2010 (up from 118 in 2009). Despite carrying all those additional calls, and so much more data. Their revenue still dwarfs advertising – even Three made more profit than the entire mobile advertisers' revenue from the UK - but the writing is on the wall and operators are concerned.
The first thing operators want to do is get customers on to contracts, and then they want to lock them there for as long as possible. The EU caped mobile contracts at two years, pre-empting operators who'd probably have gone for longer. Smartphones help there, but operators are also bumping up the cost of calls for prepaid customers, and blaming on the regulator's imposed cut on termination fees.
That should keep customers more loyal for longer and reduce the enormous cost of trying to seduce competitors' customers. Customer acquisition is a big part of a mobile operator's expenses, so anything that cuts that will help the bottom line.
Contract customers also make about three times as much revenue as prepaid. That's mainly 'cos they don't watch their finances as closely, but also because the kind of person who goes contract isn't the kind of person who's watching every penny. That three-time jump in revenue won't last, as the new generation of contract customers are much more cost sensitive.
Which is why we're seeing the rise in cheap contracts: one in five mobile contracts now costs less than £15 a month. That's being reflected, slightly, in the average number of bundled minutes (476 today, from 550 last year), but hardly enough to make a difference when the number of subscribers using data services is rising at the same rate that the number paying for such services is dropping: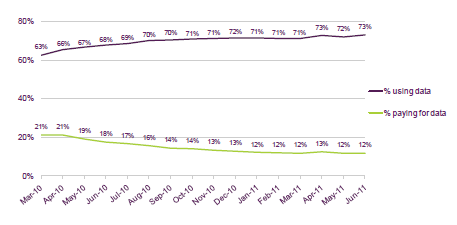 Proportion of contract customers using (at the top) and paying a free for (at the bottom) mobile data
All this would be OK if network operators could sit around and rake in the (admittedly static) revenue, but next year, they're expected to invest billions in buying 4G spectrum and find the money to build the 4G infrastructure too.
Ofcom offers the occasional crumb of hope, pointing out that 75 per cent of broadband customers now have Wi-Fi: to which some of the data can be off loaded. The regulator also suggests that upgrading from 3G to HSPA is "relatively inexpensive" and that LTE (4G) "offers greater spectral efficiency", so that's OK then.
All in all, it's not a happy picture for the network operators. Right now the amount of money that Google and Facebook are making is tiny, in the big picture, but it is increasing and the operators are about to spend billions building next-generation networks so that Google and Facebook can make more money faster.
But the UK operators will bid for 4G spectrum next year, and they will build LTE networks too. Not because customers want them, or because they'll help the company make money, the only reason they'll roll out 4G is because if they don't then the other operators will, even if it helps their real competitors more than themselves. ®