Audio Pro WF100 wireless streamer
Dongle up your hi-fi
---
Geek Treat of the Week Anyone who's tried wireless tech over the years knows how tricky and expensive it can be to get superior sounding audio around the home without wires. Step forth Swedish hi-fi brand Audio Pro, that has come up with a user friendly package that gives you a wireless transmitter/receiver duo.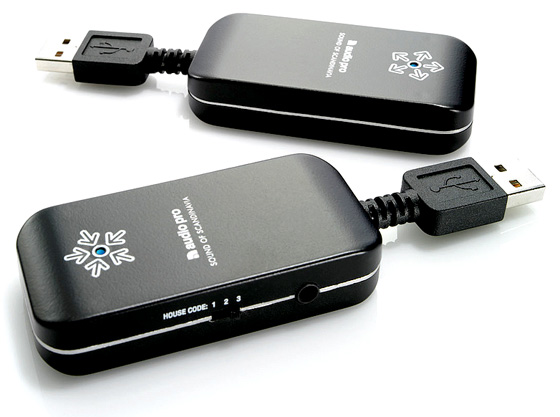 Plug 'n' Play: Audio Pro's WF100
In this era of compressed MP3, these devices aim pleasingly high with delivering lossless CD quality sound. The transmitter can be attached to any audio device with a line out – not just the obvious computer to hi-fi option. Accordingly, the wireless receiver unit picks up the audio and attaches to any suitable hi-fi or active speakers.
It's a quick and flexible way to share computer-based audio on a music system without complex UPnP/DLNA set-ups or buying new audio products with built-in wireless reception. There are numerous other uses, such as linking it to the line output of a DAB radio to effectively upgrade a non-DAB hi-fi elsewhere.
Both transmitter and receiver are USB-powered. If the transmitter is connected to a computer it gets its required 5V from the USB port. For Windows or Mac it's a plug-and-play set-up. There's no software required and the transmitter appears as a USB headset, selected in the audio control panel. Be aware that it picks up any computer sounds at the time, including e-mail notifications and Skype, if you haven't quit those applications.
The pack includes one USB mains plug. You'll probably need this at the receiving end, although some AV amplifiers run power to a built-in USB port regardless of the input being heard. If you need a power plug for the sender, practically any USB adapter will do, which you can pick up for less than a fiver.
The system uses a proprietary 2.4GHz network. In contrast to many wireless audio streamers, it doesn't share bandwidth with your Wi-Fi network. If it encounters interference it automatically switches RF channels. You can add as many receivers as you like (at £85 a time) or add up to two more transmitters (again for £85 each) and allocate every one its own 'House Code' so that a building can support up to three separate networks.