Open...and Shut Silicon Valley likes nothing more than to fetish the Next Big Technology Trend, be it cloud or NoSQL or scripting languages. The problem is that the real world moves much more slowly, and has very different considerations fueling its technology decisions. Perhaps nowhere is this clearer than in the technology media's infatuation with NoSQL, even as the world plods along with SQL.
I was reminded of this by Redmonk analyst Stephen O'Grady, who nicely shows that far from rendering SQL obsolete, the NoSQL crowd actually finds itself adopting SQL's query languages. As O'Grady notes: "The category might self-identify with its explicit rejection of the industry's original query language, but the next step in NoSQL's evolution will be driven in part by furious implementations of SQL's children."
Additionally, whatever its Oedipal desire to kill off its father, NoSQL remains a tiny blip in the overall datastore universe. Why? For one thing, SQL is much easier to learn, as O'Grady also points out. Google and its ilk are in furious bidding wars to buy the best tech talent the world has to offer. The mainstream enterprise can't compete with that, and ends up with mainstream engineers.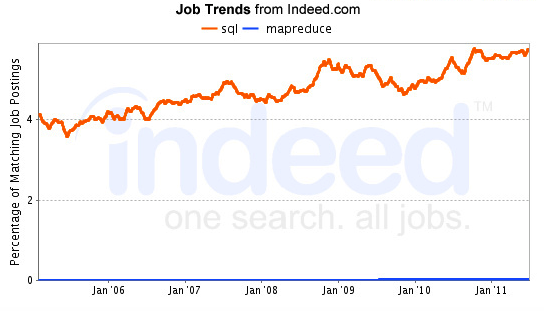 SQL v MapReduce job growth (source: Indeed.com (via Stephen O' Grady))
Those engineers know SQL. They generally don't know NoSQL variants like Cassandra, MongoDB, etc. This isn't to say that NoSQL will never win. But it is to suggest that technology transformations take a lot longer than the time needed to write about them.
Consider Java. It has taken a beating in the past few years, particularly in the press, which warmed to PHP and other scripting languages. Those nouveaux riche languages were supposed to kill off Java long ago, but that hasn't happened. Java (and its Microsoft kissing cousin, .Net) remains the lifeblood of enterprise IT. It's not sexy, but it remains a powerful programming language that is easily accessible to a large population of programmers.
And for as much as I talk up the chances for the mobile web to displace Apple's iOS, as more developers look to the browser to solve cross-platform woes in mobile, it's clear that Apple has pulled off a Microsoft-like developer coup. Microsoft didn't become the desktop king and a strong contender in servers through anti-competitive tying arrangements. No, Microsoft became a technology behemoth by relentlessly lowering the skills bar for application developers and IT administrators. Unix and other competitors were comparatively hard, if more secure/powerful/whatever. Microsoft was easy.
And so Microsoft won. Apple has invested a huge amount of time, thought, and money into making iOS development Windows-esque in its ease. The tooling for iOS is excellent. It's therefore easy for developers to embrace iOS as their preferred platform, regardless of Apple's market share (which happens to be quite strong). For the NoSQL crowd, to get beyond Twitter, Google, and other geek elites, there needs to be equal emphasis on making the tooling simple. Sure, some developers will invest the time and attention necessary to learn CouchDB because they absolutely need its functionality to solve a given business problem.
But the vast majority won't. Most people can't afford to be overly passionate about technology. This is what the open-source crowd missed for years, myself included, as we raged against the Microsoft machine while pragmatism kept the world buying Microsoft, Oracle, etc. Most developers aren't looking to start a revolution. Most just need to get things done for their respective employers, so they can afford cable TV and food for their families.
Yes, it's boring. But it's also true. ®
Matt Asay is senior vice president of business development at Strobe, a startup that offers an open source framework for building mobile apps. He was formerly chief operating officer of Ubuntu commercial operation Canonical. With more than a decade spent in open source, Asay served as Alfresco's general manager for the Americas and vice president of business development, and he helped put Novell on its open source track. Asay is an emeritus board member of the Open Source Initiative (OSI). His column, Open...and Shut, appears twice a week on The Register.
Similar topics