This article is more than 1 year old
Windows Phone dev GM splits with Microsoft
'Remember, every time you use Google, a puppy dies'
Charlie Kindel – the general manager of the Windows Phone Developer Ecosystem and a 21-year Microsoft veteran – is leaving the company for a mystery startup. But he still forbids his kids to use Google.
"No, just because I don't work at Microsoft anymore you may not use Google," he told his children. "Remember, every time you use Google, a puppy dies."
Kindel announced the move on his personal blog, saying he will remain in the Seattle area as he builds a new company that "has to do with sports, advertising, mobile, social-networking, and, of course, the cloud." Our best guess is that he plans to challenge Android by building smartphones into jock straps.
In his blog post, Kindel did admit that after leaving Microsoft, he may stop using some Redmond products, but this will not include Windows Phone, which he called "the BEST product Microsoft has ever built".
"Do not let up," he told the Windows Phone team.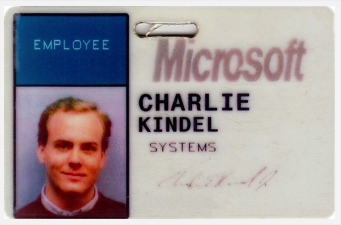 Charlie Kindel in 1990
As the general manager of the Windows Phone Developer Ecosystem, Kindel led the design and development of the Windows Phone 7 Application Platform, which now runs about 27,000 apps. That' a far cry from what you see running on iOS and Android, but Windows Phone 7 is less than a year old.
In an interview with Geekwire, Kindel said he "stepped away from day to day Windows Phone work " earlier this year to "focus on what I wanted to do with my career next".
Though Windows Phone 7 received quite good reviews when it was first released, it lost some serious momentum when Microsoft botched an update to customer phones. The first major upgrade to the platform, codenamed Mango, is due this fall. ®