This article is more than 1 year old
Facebook gets creative with mobile phone data harvesting app
Contact-tapping Messenger coming to Europe 'very soon'...
Facebook wants to hook into mobile phone users who don't necessarily have a profile set up on the dominant social network.
The company has launched a service in the US that's a separate app linking messages in Facebook with texts, chats and emails on a mobile phone.
In effect, the Web2.0 outfit has tapped into the SMS market by fanning out its existing messaging service to a mobile phone app that's available on Google's Android and Apple's iPhone, but, somewhat surprisingly, not on the Windows Phone.
Facebook, of course, has a much closer relationship with Microsoft than with Cupertino or Mountain View. But then Mark Zuckerberg's company is simply following the big money-making and data-raking players in the mobile market.
"You can use Messenger to reach all of your friends - whether they're on Facebook or in your phone contacts. All you have to do is type the person's name," noted Facebook in a blog post yesterday.
In other words the app, which requires Facebook login credentials to work, can send phone messages to individuals who aren't signed up to the world's largest social network.
At the same time messages are synched across devices for existing Facebook users. The service can be used to communicate with groups, much like Blackberry's private BBM network. It also allows users to include location details and attach files like photos.
If such a system comes to the UK, it's unclear whether the data, as is typical with SMS services, would pass through Facebook servers based in Blighty, thereby keeping the communications geographically land-locked.
Facebook has a tendency to farm out the data it gathers to the US, which could prove an issue for regulators in Europe when the Messenger app lands on this side of the pond in the not-too-distant future.
The Register asked Facebook to tell us its plans for how it will store such data when the app arrives in Europe, but a spokeswoman at the firm couldn't immediately provide us with an answer. We'll update the story if a full statement is forthcoming.
"When you're on the go, coordinating a bunch of people can be tricky, especially if plans change at the last minute. With Messenger, you can quickly start a group conversation and message everyone at once," noted Facebook yesterday.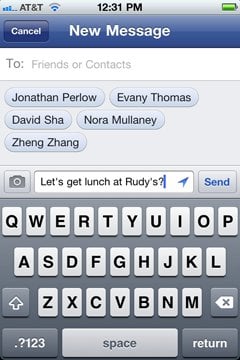 "If you choose to add your location, the people you're messaging with can easily find each other on the map. You can also attach photos, so everyone else can see and comment on what you're looking at."
Given the recent headline-grabbing news about Blackberry's messenger service and its alleged role in the UK disorder, it's not unreasonable to wonder how Facebook's service will differ from, or indeed replicate, BBM's server behaviour. Blackberry's archives could potentially be scrutinised by police authorities to pinpoint troublemakers, for example.
Meanwhile, Facebook is not immune to skirmishes with data protection watchdogs in the EU. Just last week, Germany waded in against the firm's recent unannounced decision to switch its facial recognition technology on by default for its European userbase.
It's unclear whether Messenger will face similar criticism, but some might be unhappy with the app's ability to tap into private contacts stored on a mobile phone that have no accompanying profile set up on Facebook, especially if related data streams are shipped out to the US. ®