This article is more than 1 year old
Five... freshly picked iOS gaming apps
The latest from Apple's amusement arcade
iGamer If you've survived the sink estate uprising and still have a job after Global Financial Meltdown II, you might just enjoy one of the recent crop of iOS games on your commute to work.
Cut the Rope: Experiments

Cut rope, free candy, feed Om Nom. Like all the best casual titles, Cut the Rope's simple premise and controls belied highly addictive gameplay. Not content merely serving up additional levels, Experiments introduces novelties to build upon the original's successful physics-based puzzle template.
New contraptions such as bouncing pads and rope shooters combine with the bubbles and whoopee cushions of the original to provide even more intricate puzzling. And there's a greater focus on urgency this time around, with time-limited stars and spiders featuring more prominently. Seasoned players won't take long to chomp their way through the 75-levels on offer, but there's plenty more updates promised in this sweet sequel.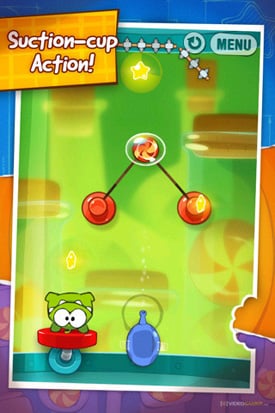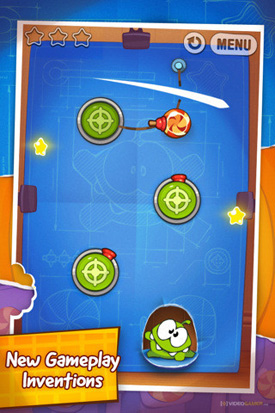 Reckless Getaway

Underneath the slick cartoon graphics and vehicular mayhem, Reckless Getaway is essentially an updated version of a Tomytronic 3D game. With acceleration taken care of automatically, you're limited to swerving your getaway car left and right as scenery and traffic hurtle towards you. The major difference, however, is that you're not trying to avoid traffic here, but attempting to cause as much carnage as possible.
In a game of risk and reward, stars are earned by ramming into cars and scenery, pulling off insane jumps and collecting coins scattered along branching, hazard-filled routes, but they're easily lost by sustaining too much damage and wrecking your own car. It makes for an unpretentious blast of fun, especially early on when learning the most profitable routes. But with little to distinguish between the game's 16-levels, gameplay soon becomes repetitive. Not so much Reckless Getaway, then, but feckless throwaway.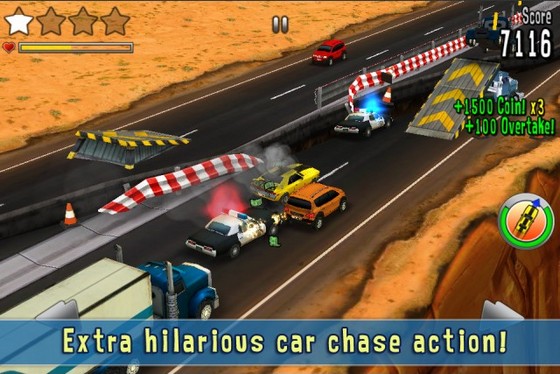 Reg Rating 60%
Price £1.99
Publisher Polarbit
More info Reckless Getaway on iTunes