This article is more than 1 year old
Samsung Galaxy Fit Android smartphone
Cheap talker, sharp shooter
Working out?
Video recording is at a maximum resolution of 320 x 240 pixels, so not great on paper, though it's good enough for snapping looters and shaming them on YouTube. Video viewing leaves something to be desired on the less than impressive display. The handset features an FM radio and the Android music player is a decent one. That said, you'll have to supply your own headphones as Samsung doesn't supply any.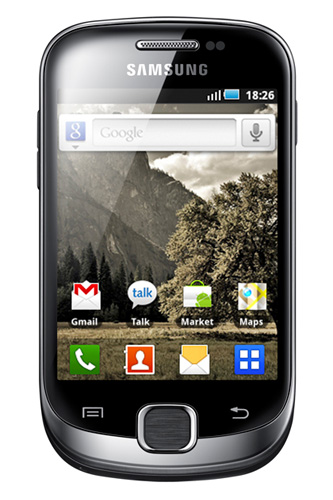 A bit of a lightweight
QuickOffice is installed, offering the ability to view and edit, but not create, Word, Excel and PowerPoint documents, as well as view PDFs. It comes with 160MB of memory on board and a 2GB memory card, though you can also add your own up to 32GB if you feel the need. The relatively small battery 1350mAh battery saw the Fit through a full day of fairly heavy use, but not much more.
Verdict
The Samsung Fit is a low-end Android with a poor screen and underpowered processor, but just about redeems itself with a decent camera. ®
More Budget Android Smartphone Reviews

Vodafone
Smart
HTC
Salsa
LG
Optimus One
Ten… budget
Android
smartphones
Motorola
Defy

Samsung Galaxy Fit Android smartphone
Budget Android 2.2 smartphone with a 5Mp camera.