Pacific island mints Star Wars coinage
'Tell Jabba I've got his money...'
---
The Pacific island of Niue is hoping to drum up some cash from Star Wars fans by issuing two sets of coins commemorating the sci-fi franchise.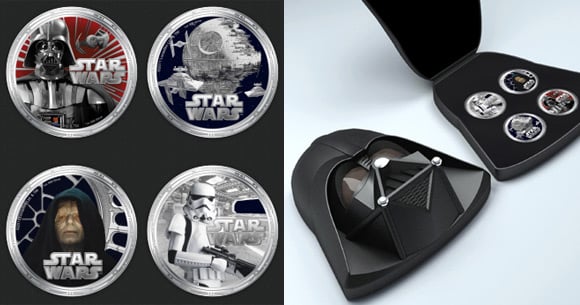 For NZ$469 (£238) a pop, you can choose from either a Darth Vader-themed collection (pictured), or a Millennium Falcon boxed set featuring duets of Luke Skywalker / Princess Leia, Obi-Wan Kenobi / Yoda, R2-D2 / C-3PO, and Han Solo / Chewbacca. The reverse of the coins bears a traditional likeness of Her Maj Liz 2.
The face value of the individual coins is NZ$2 – the official currency of Niue – but since these collectibles are minted from 1oz of pure silver, "no one is going to go buy an ice-cream with them", as New Zealand Mint spokesman Chris Kirkness put it.
The Star Wars issue is limited to 7,500 individual coins, and they'll be on sale from November. For those on a tight budget, there will also be silver-plated base metal coins, sold separately at NZ$23.50 (£11.90) each.
Kirkness explained: "Traditionally, who would buy these would be coin collectors, but this product opens up the market as a gift product and for enthusiasts of Star Wars."
We reckon Kirkness is right, and Niue will do better business with its Star Wars dosh than it did with its Wills and Kate royal wedding stamp, which rather unfortunately perforated the happy couple. ®
Similar topics
Broader topics