This article is more than 1 year old
iLuv iPad 2 case and Bluetooth keyboard
Winning combination?
Accessory of the Week If you have an Apple iPad, the chances are you'll have some kind of accessory to protect it. While a Jiffy bag would do, you'll probably be inclined to consider something more enduring. Typing on a piece of glass has a few shortcomings too – not only the lack of tactile responsiveness but the fact that the virtual keyboard covers half the screen. iLuv's combination of keyboard and cover is an accessory that provides a stylish approach to these issues and has been revamped for the iPad 2.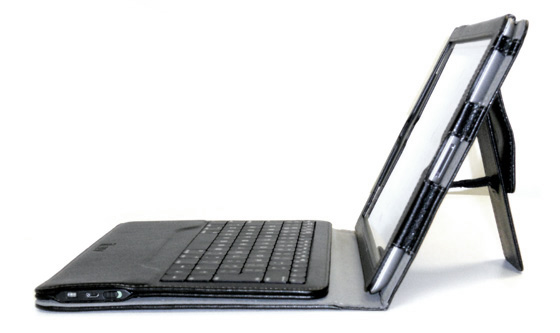 iLuv's remodelled ICK826 for the Apple iPad 2
The iLuv ICK826 fits the iPad 2 by simply sliding it into a leather frame that forms the inside of half of the book-style cover and then tucking in a tongue behind it. Strategically placed gaps and holes in the leather allow for the docking connector and camera to be used in situ.
Facing it on the other side is a dinky Bluetooth keyboard that features a row of dedicated function keys for iPad-specific control. The Fn a modifier key also enables secondary functions for this row of 16 keys. Besides the compact Qwerty layout, there's Control, Option and Command keys as well as a big Enter/Return key. Alas, the Shift key on both sides is the same size as the arrow keys and letters, and the bigger Caps lock has no indicator light, which can be a real pain when entering passwords.
Unlike the Velcro fastening of the original model, the keyboard is held in place by magnets and can be detached from the cover, which is handy if you're keen to prop up the iPad and use it in portrait mode. Alas, the cover's prop stand doesn't offer positioning this way, although you could take it out of the frame and just slot it into position.
On the right side of keyboard is the pairing button, a micro USB connector for charging and an on/off switch. With Bluetooth active on the iPad and showing in the Setting menu, simply press the pair button, which flashes a bright blue and enter "XXXX" on the iLuv keyboard when prompted.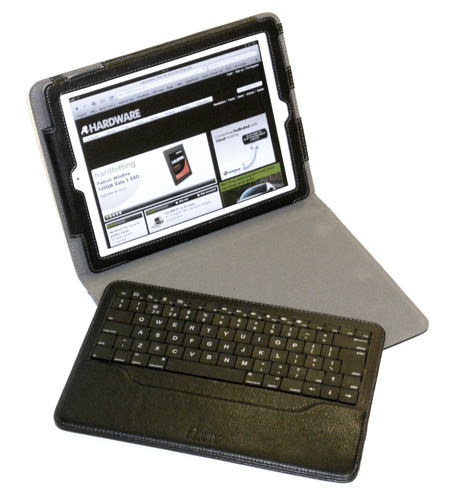 The removeable Bluetooth keyboard is held in place by magnets
After that, waking up the Bluetooth connection between devices requires just a couple of taps on the keyboard and you're typing again in a matter of seconds. As for the actual typing, this isn't the easiest keyboard to master. While everything is in its place, the keys are flush with each other, rather than raised chiclet-style. So, hunting around for the letters is achieved more easily with practice and can't be mastered so readily by feel.