Jeff Bezos patents retro jets, and airbags, for telephones
Amazon man protecting your pocket tech
---
A patent filed by Jeff Bezos and Amazon VP Greg Heart suggests using a phone's accelerometer to detect when it is falling, and deploying tiny airbags to cushion the impact.
The patent application was filed in February, but only just made public and remains some way off from being awarded. It was noticed by Geekwire, who spotted the names of Amazon's CEO and VP listed as "inventors", presumably in the expectation that eventually someone will decide to deploy in-phone airbags and thus have to hand over licence fees.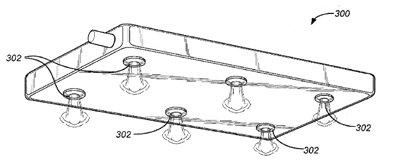 There's one with little springs too, but this is the most photogenic
Not that airbags are the only mitigation technology suggested by US Patent Application number 20110194230. Jets of gas could be used to slow the descent or to flip the falling handset over to present an airbag-protected surface, or to present a surface covered in springs deployed in an Inspector Gadget style.
In the process of establishing risk, the patent doesn't limit itself to acceleration, but also suggests that a laser rangefinder might be able to judge the speed of an approaching ground while the surface of the phone could detect if it was safely nestled in a bag or falling alone through an uncaring sky.
But speed and distance aren't everything: you also need to know if the approaching surface is a comfy duvet or an unforgiving tarmac road. Here the handset might like to use X-rays, or old-fashioned radar, to establish the overall risk to its wellbeing, before deciding whether to deploy the jets and/or airbags.
It all sounds a bit farfetched to us, but we already have phones that scream when they're dropped, and laptop hard drives have long been able to park their heads prior to an anticipated impact, so perhaps we're being too unimaginative.
Whatever the future of mobile phones, we can be sure that whoever owns the patents will end up owning the world, so having one for in-handset airbags might not be as stupid as it appears to be. ®