This article is more than 1 year old
Dell puts gun to Streak 5 tablet, pulls trigger
Five-inch experiment dead
Dell has discontinued its five-inch Dell Streak, a neither-fish-nor-fowl item that never quite caused consumers' pulses to pound.
The death of the Streak 5 was announced on Dell's website on Thursday, along with the suggestion that streakers "Check out our other innovative Dell tablets and smartphones," including the Android 2.2 Streak 7 tablet and Venue smartphone, Windows Phone 7 Venue Pro smartphone, and Windows 7 Home Premium Inspiron Duo convertible.

"It's been a great ride," you say? Well, not really
The Streak 5 was an odd bird: both a scrunched tablet and an expansively screened GSM smartphone. Released in June 2010 running Android 1.6, aka Donut, it was upgraded to version 2.2, Froyo, later that year.
When The Reg reviewed the five-incher shortly after its release, we called it "much more of a supersized Android smartphone than a real tablet." We were right. The Streak 5, though quite serviceable in some ways, was positioned between tablets and smartphones, and fell into that void.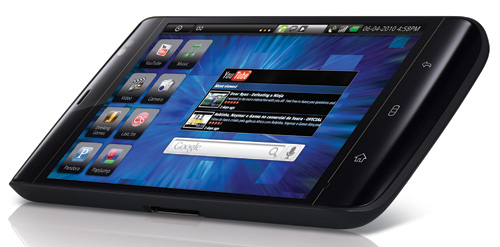 An oversized phone or an undersized tablet?
Not that Dell should be excoriated for a poor marketing decision. Instead, they should be patted on the back for taking a chance. When the Streak 5 was introduced, the current tablet champ, Apple's iPad, had just been released, and – despite what Steve Jobs may have said – no one was really sure what form factor would become a success in the then-nascent tablet marketplace.
We now know that five inches didn't cut it for most consumers – but hindsight, as they say, is always 20/20.
The end of the Streak 5 doesn't mean that Dell is abandoning its foray into the tablet market, of course. It still offers the Streak 7, and the Streak 10 is due soon, although it'll make its debut in China.
The Android-based tablet market is in a bit of disarray at the moment, what with Google reneging on its earlier promise to open source version 3.0, aka Honeycomb, and with the next version, Ice Cream Sandwich, not due until later this year.
And then there's the iPad juggernaught, just a-rollin' along. Despite today's news from ABI Research that all Android tablets taken together now have a 20 per cent share of that market, Apple's 80 per cent is ... hmm, let's see ... four times as big.
If that Android's market share is going to rise – and the history of smartphones indicates that it should – one thing is clear: five-inch tablets won't be a factor in that growth. ®