In this time of economic upheaval and fiscal brinksmanship, it heartening to hear of one government that's approaching budget enhancement with fresh, creative thinking.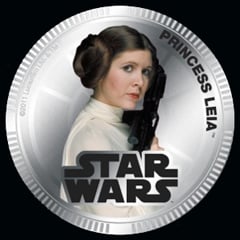 The most captivating croissants in the Alliance
That'd be the Polynesian paradise of Niue Island, which is padding its coffers by issuing legal-tender $2 coins that honor an assortment of great heroes from a long time ago in a galaxy far, far away: the characters of the original Star Wars trilogy.
Thanks to the good offices of the New Zealand Mint, Niue Island will begin issuing it first series of one-ounce, 999-silver Star Wars coins in November of this year. This mintage (yes, that's a word) will be limited to 7,500 coins in each of eight designs.
The coins can be ordered only in sets of four. The Darth Vader Coin Set features Vader, Emperor Palpatine, the Death Star, and a Stormtrooper, and comes in a Dark Helmet case that plays "authentic movie sound effects of Darth Vader breathing" when you open it.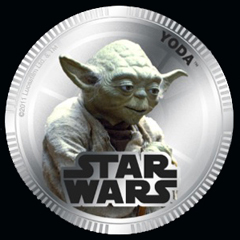 Help the Niue Island general fund, you will
The second pure-silver choice celebrates the more pleasant side of the Force. The four coins in the Millennium Falcon Coin Set have images of Luke 'n' Leia, Han 'n' Chewy, R2-D2 'n C-3PO, and Yoda 'n' Obi-wan – and that'd be the Alec Guinness Obi-Wan, of course, and not the pale Ewan McGregor attempt from George Lucas' Heinous Embarassment Trilogy nor the animated James Arnold Taylor from The Clone Wars. This set comes – as might be guessed – in a Millennium Falcon case, and it plays "authentic movie sound effects of the ship's iconic 'jump to light speed'" upon opening.
The four-coins-in-a-noisy-case collections will set you back $390.44 (£239.80) each. If that's too rich for your imperial or rebel tastes, you can instead pick up single coins in silver-plated base metal for a mere $19.56 (£12.02) each.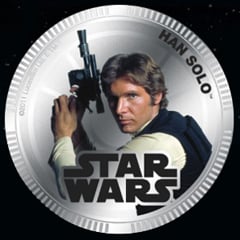 I've got a bad feeling about this investment
The silver-plated coin collection will start with a set of 10, each struck in mintages of no more than 50,000 each. Thirty more coins will be added over time – and yes, as you might expect, the NZ Mint will be happy to sell ou a 40-coin holder for your collection as well.
Do note that each member of the Star Wars pantheon, being on the reverse side of the coins, takes second fiddle to the personage on the front: the country's head of state, Her Majesty the Queen, Elizabeth II.
The good citizens of Niue Island have not only their fiscal, but also their political priorities straight. ®