The force was strong at London's O2 Arena this morning, with the first public preview of Star Wars in high definition on Blu-ray. The eagerly awaited discs, collected together as Star Wars: The Complete Saga, will go on sale September 12th, but visitors to this weekend's Empire Big Screen film festival have a chance to see(3PO) them early. The Empire Big Screen event runs Friday through Sunday (14 - 16 August).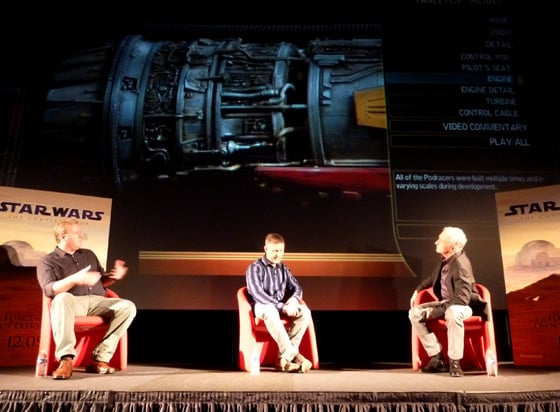 As part of the Blu-ray extras package, fans also get to HD views of the various models used.
Darth Vader and his stormtroopers, sponsored by Panasonic, are hosting the Blu-ray Experience at the venue's Proud2 nightclub. Visitors will see Blu-ray sequences from all six movies, plus a sneak peek from 40-hours of special features.
Fans will also be invited to share and record their own personal Star Wars story as part of the Star Wars Stories Project, the official Lucasfilm fandom documentary.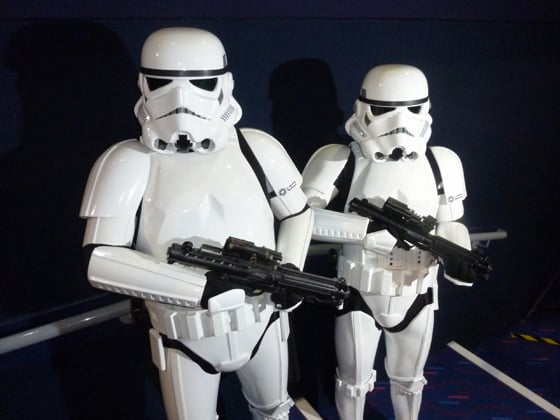 Nothing to see here, move along...
If sneak peeks aren't enough for you, the iconic series will be available as one mega box set of all six movies, the nine-disc Star Wars: The Complete Saga, as well as the three disc Star Wars: Original Blu-ray Trilogy (Episodes IV-VI) and three disc Star Wars: Prequel Blu-ray Trilogy (Episodes I-III). The studio says films will not be released individually, and you'll only get the fascinating extras as part of The Complete Saga.
Based on this morning's preview, it looks like the original trio are the big beneficiaries of the HD remastering, with Star Wars Episode IV: A New Hope looking particularly spectacular. While Phantom Menace, Revenge of the Sith and Attack of the Clones all have a generic CGI sheen, the original looks refreshingly real and textured on BD. Fans are likely to explode with excitement when they see it.
The software industry has high hopes of Star Wars' Blu-ray arrival, with some saying its release will herald a tipping point for Blu-ray as a mainstream format. Adding weight to the event were cast and crew from the various productions.
Bill George, Visual Effect Supervisor for Industrial Light and Magic, was candid about the what viewers could expect from this release:
"The original films were obviously shot on film and have never been seen at this resolution before. We're seeing new things within the movies now that we've never seen before. It's exciting but scary – people will actually see that what we did was not perfect. The BD extras show the original props and models in such high resolution you can see globules of paint. Hopefully, people will think it's charming.These Blu-rays will be a really great way to appreciate the craft of the films."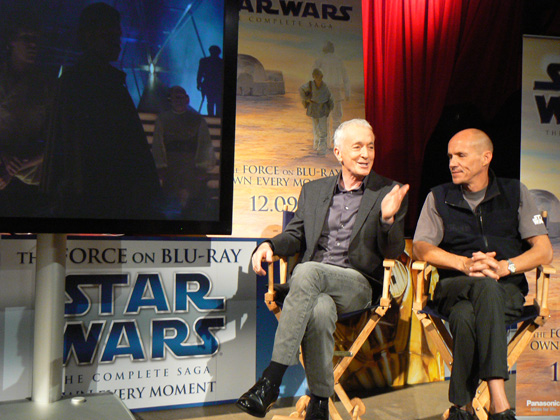 Ant Daniels and Nick Gillard give their perspective on 3D formats
Anthony Daniels – the unforgettable voice of android C3PO – remarked on the enduring nature of the Star Wars saga:
"It's astonishing to think that when we were shooting the original Star Wars, the video recorder was new technology. And now we're coming out in Hi-Def."
When pushed on plans to convert titles to 3D, Daniels added:
"I've been involved in the remaking of the Star Wars Tours theme ride, which has really great 3D effects. That's the place for the technology, I think. To be honest, I don't expect things to jump out of the screen at me when I'm at home."
Nick Gillard, Stunt Co-ordinator for the series was even more blunt: "Pah, I hate 3D," he said.
That added dimension does tend to split audiences and with movies downloads prevalent too, Blu-ray's disc-based content is another area where consumers need persuasion. However, Vincent Marcais, Fox's Senior Vice President of International Home Entertainment Marketing was bullish about the format:
"Movie makers have always been vocal supporters of Blu-ray," he says "but when you have a guy like George Lucas saying you haven't seen Star Wars until you've seen it on Blu-ray, you can't ignore the message."
Effective from today, buyers of any Panasonic Blu-ray player (bar the cheapest) or BD home cinema system will be able to claim a complimentary copy of Star Wars: The Original Trilogy. Redemption is done on-line. "This way customers will have their discs on the day of release," says Panasonic's Blu-ray head David Preece. "The release of Star Wars on Blu-ray will be a turning point for the format," he adds. The offer, a UK exclusive, is expected to run through the Christmas period. ®