University rats on Sydney suburb
Rodent reintroduction reverses ratbags' rampage
Mosman Council in Sydney, along with Sydney University and Taronga Zoo, hopes to drive out rats with more rats.
The native "bush rat" – Rattus fuscipes to scientists, the Bogul rat to its friends – is being reintroduced to bushland areas in the harbourside suburb, in the hope that it will displace a pest that arrived with Australia's first Europeans.
While the native rat is still common away from the city, it hasn't been seen close to Sydney's centre for more than a hundred years.
The council and the university hope that locals will find the Bogul a better neighbour than the black rat. It's not a home-invader, it doesn't climb trees (meaning that native birds don't find their nests raided), it doesn't drive out native species such as the mouse-like marsupial antechinus, it doesn't carry human or pet diseases (while plague hasn't been observed in Australia for a long time, lungworm is a contemporary danger), and it doesn't dress in balaclavas and plant extortion threats like other Mosman invaders.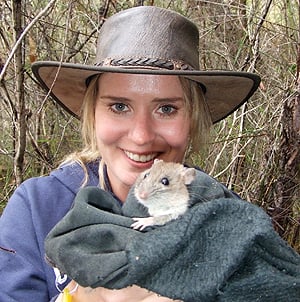 Researcher Dr Grainne Cleary with a native Bogul rat. Image: University of Sydney
It's quite likely that the black rats' role as a disease carrier helped drive the Bogul out of Sydney.
During an outbreak of plague at the end of the 19th and start of the 20th century, a bounty – equivalent to around $AU4 per rat in today's currency – was offered to rat-catchers, and since they probably couldn't tell the difference between the two species, both were swept up by the "ratbags" (rat-baggers).
Sydney University ecologist and team leader Peter Banks notes on the project Website that the last sighting of a Bogul rat in Sydney was the year after the plague was contained.
The researchers and Mosman Council hope to avoid confusion by pointing out the differences between the two rats – the native rat has a shorter tail and a less-pointed face.
In earlier research at Jervis Bay on the NSW south coast, researchers cleared black rats from bushland and observed the Boguls moving back in. The results were encouraging, with the natives still maintaining strong populations five years later.
Other project sponsors include the National Parks and Wildlife Service, the Australian Wildlife Conservancy, and Rentokil. ®