With the launch of Microsoft's Windows Phone 7.5 fast approaching, it was only a matter of time before someone leaked the final build. An internal spillage has done exactly that, offering hackers the chance to give Mango a ruddy good seeing too.
The release is simply called "build 7720" and can be quite a tricky install to pull off, according to the XDA developers forums.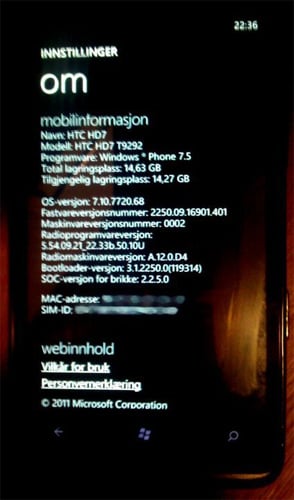 For starters, a WinPho has to already be running build 7392 - aka "Nodo" - or one of the two beta Mango builds. If those criteria are fulfilled, then users can follow the 20 steps and attempt the two-hour install. Phew.
Those who do are warned that it might cause issues with the device, though, and it holds no responsibility for the risk taken.
The unofficial update brings with it Mango's hardware-accelerated graphics, HTML5 support and close integration with Microsoft's Bing. There's also a host of fancy features such as a Shazam-inspired music identifier.
If you can't wait until Mango 'officially' launches on 1 September, then you could always give this unofficial version a whirl. It has so far been confirmed as working on the HTC HD7, HTC Mozart, HTC Trophy, Samsung Focus, HTC Arrive, Dell Venue Pro, and LG Optimus 7. ®