Apple changed shape of Galaxy Tab in court filing
Looks exactly like an iPad - if you stretch the truth a bit
Apple's court submission, which led to an EU ban on Samsung's sale of its rival Galaxy Tab device, contains one comparison which seems to warp reality to make its point.
Apple claimed in a German court, which it also claimed in its submission to the Dutch court, that the Samsung Galaxy Tab 10.1 is a straight rip-off of Cupertino's iPad 2, providing photographs and drawings good enough to convince the judge to impose a ban on Samsung's distribution of its Galaxy Tab product. But the photograph on page 28 clearly shows the devices side by side, with identical proportions. This is quite remarkable when the Tab is a widescreen device.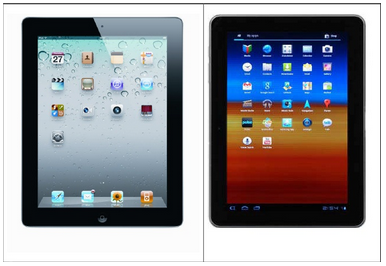 The dodgy pic was noticed by Dutch publication Webwereld.nl, which provides some diagrams showing how the image differs from the widescreen proportions of the Tab.
Such is the audacity of the alteration that there is considerable doubt that even Apple would be arrogant enough to 'shop the image, with suggestions that the picture actually shows an earlier version of the Galaxy Tab.
More likely, however, is that Apple presented the image to show the similarities beyond the physical shape. The text below the comparison (page 28 of the German court filing) points out that both devices have rounded corners and feature a flat surface centred within, and surrounded by, a metallic frame. When switched on, the text continues, both devices present an array of icons as shown in the image.
So this section of the argument is not about the physical proportions of the device, but about the overall look. The stretched image could be justified by the need to emphasis the similarities by removing the disparities, though a footnote to that effect should surely have been included. Other images in the document certainly don't draw attention to the difference in overall dimensions, with the devices compared at different angles and scaled to different sizes.
But it was the supposed similarities between the devices that convinced the judge to ban sale of the Galaxy Tab within Europe (Netherlands excepted). Although Apple never specifically claimed the two devices had identical proportions, presenting these images (without explanation) is surely - quite literally - a case of stretching the truth.
We've asked Apple for comment on the matter, but as of publication we've received no response. ®