Despite obvious distraction in the form of a rather large Google takeover yesterday, Motorola still found time to announce a Defy refresh, upping the speed of the rugged smartphone by 25 per cent.
The Motorola Defy+ now packs a 1GHz processor, which not only puts it 200MHz ahead of its predecessor, but also keeps one foot in front of Samsung's durable and similarly-specced Galaxy Xcover, announced last week.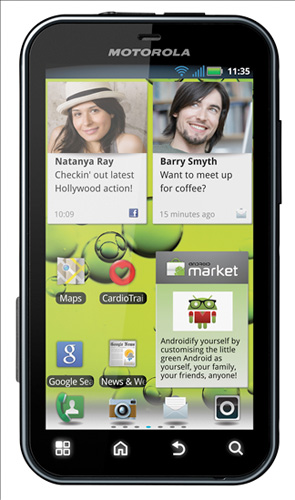 The multi-element enduring Defy+ shares quite an alikeness with its older brethren in that it packs a 3.7in touchscreen with a scratch-resistent Corning Gorilla Glass cover, a 5Mp snapper and 2GB of storage.
While the Android OS has here been updated to 2.3 Gingerbread, the Defy+ still sports the company's front-end, Motoblur, which includes a customisable homescreen and easy access social network widgets.
The Motorola Defy+ will be out, come rain or shine, sometime this autumn. ®