Vodafone is tapping into the social network generation by offering its own-brand budget Facecrack blower for Pay As You Go customers.
The Vodafone 555 looks fairly similar to HTC's ChaCha, but doesn't nearly pack as much under the hood, running on Vodafone's proprietary OS and running a 200MHz processor. It features a 2.4in display, 2Mp camera, Micro SD slot, Flash support and an Opera Mini Browser too.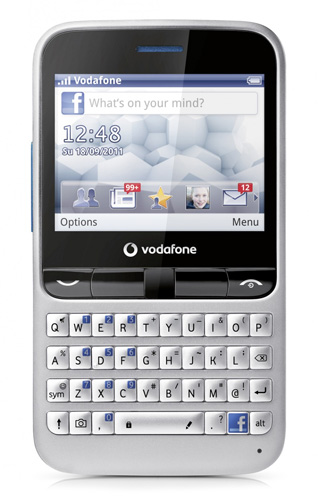 It's all about the Facebookin' here, though, and the 555 offers one click photo uploads and an instant-access hockey, as well as contact-list and Facebook message integration, which can all get rather cluttered if you have stacks of friends and a heaps of notifications.
The Vodafone 555 is available in Vodafone shops for £62.50.
If you're happy to ditch the Qwerty keyboard in favour of an actual smartphone, though, then the company also offers The Smart, which isn't too much more in price. ®