ICANN chief Beckstrom says he will go in July 2012
Confirming decision apparently not made by him
Rod Beckstrom, the president and CEO of domain name industry overseer ICANN, has announced that he will leave the job when his contract expires in July next year.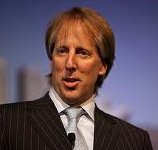 Wrapping up: Rod Beckstrom
"I have decided to wrap up my service at ICANN July 2012," he wrote on Twitter last night. ICANN later followed up with a press release listing his accomplishments.
The speculative view among ICANN watchers is that, rather than jumping, Beckstrom was probably pushed overboard by the organisation's board of directors, reportedly unhappy with his performance.
Domain name conference organiser Kieren McCarthy, formerly both an ICANN staffer and an El Reg hack, wrote: "We understand Beckstrom's 'decision' was made for him at a secret Board meeting earlier this month."
Beckstrom joined ICANN in July 2009, a few months after he noisily resigned from his role as head of the US National Cyber Security Center.
On his watch, ICANN entered into a new, lighter-touch oversight relationship with the US Department of Commerce, which was well-received for the greater independence it gave the organisation.
He notably presided over the launch of the "internationalized domain names" programme, which gives top-level domains in non-Latin scripts, such as Arabic and Chinese, to various national authorities.
He also oversaw the introduction of the DNSSEC security standard to the domain name system's root system a year ago, and the approval of the new generic top-level domains programme this June.
But Beckstrom regularly came under fire for the way in which ICANN was perceived to have been managed, in particular for the fact that many senior staffers quit or were fired over the last two years.
ICANN was seen as tardy in replacing key personnel, while at the same time making a few curious hires, such as the secret appointment of a self-help guru as vice president, which did not go down well in the ICANN community.
This criticism came to a head at ICANN's public meeting in San Francisco this March, during which its staffing priorities were questioned by, among others, .uk chief Lesley Cowley, who has made the topic one of her pet policy peeves.
In recent months, many observers have seen the non-renewal of Beckstrom's contract as a foregone conclusion.
But in the 10 months remaining before his departure, ICANN has a number of important milestones to navigate. In particular, it needs to look at its so-called IANA contract with the US government, which gives ICANN its powers over the domain name system, is set to be renewed next March.
Beckstrom had pushed unsuccessfully for looser terms, but it seems more likely that the US, upset with some of ICANN's recent decisions, will exert greater control over the organisation.
ICANN's new gTLD programme is also set to kick off in January, although some are now privately speculating that it could be delayed by legal action in the US. ®