The US Army and Marines' ongoing effort to get unmanned robot supply helicopters into service continues, with a further $47m contract award announced yesterday.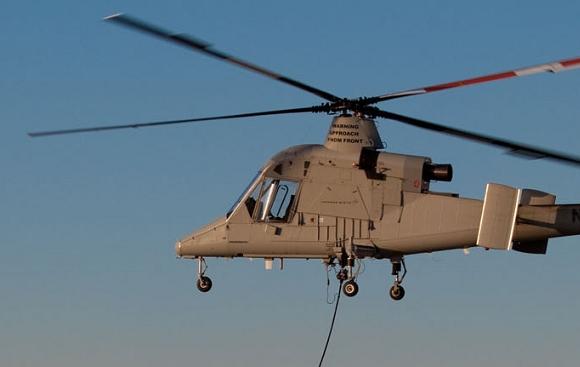 You can put a flyboy in there if you want one for some reason
The deal, awarded by the Army Aviation Applied Technology Directorate, will see defence mammoth Lockheed carry on in partnership with Kaman Aerospace to deliver an unmanned version of Kaman's existing, manned "intermesh" K-MAX craft, which is already in service around the world.
The intermesh design uses two main rotor discs, but unlike other more well-known craft which put the two discs at each end of the fuselage (or in some cases stacked one atop the other) the two discs spin on separate hubs right next to each other with the blades meshing. The use of two contra-rotating discs means no need to waste power on a tail rotor or thruster, and the K-MAX offers good lifting performance.
With the addition of autonomous robotic controls, the idea is to use the unmanned K-MAX for shifting supplies in such theatres as Afghanistan. Road convoys in such areas have to contend with bad or nonexistent highways, frequent sniping and ambushes and endless mines, bombs and boobytraps, meaning that they are in effect as expensive as helicopter delivery.
But manned helicopters, though much less costly in lives and injuries, are extremely expensive in money and hedged about with restrictions. The crew and their weapons, protective armour etc weigh a significant amount (eating into what can be carried and to what altitude) and have sharply, rigidly limited operating hours: then, manned cargo copters must normally be escorted by attack aircraft above Afghanistan, adding to the costs and difficulties.
All this means that autonomous unmanned cargo copters could be useful indeed for embattled US and allied troops, perhaps even more so as there would probably be much less reluctance to send the droid skyhooks in with critical supplies for forward bases which were under heavy fire at the time (on the whole manned copters will only go in under such circumstances to evacuate badly wounded soldiers).
But the robot K-MAX saw off its only serious rival, the unmanned A160T from Boeing, in competitive load-lifting trials over a year ago. The original intention by the US Marines, who kicked off the compo initially without Army involvement, was to have skyhooks in action by the end of 2010.
Now we learn that the robocopter is still in "electromagnetic environmental effects testing" and that a further demonstration "in an operationally realistic environment" must take place before any combat deployment, suggesting that the unmanned K-MAX may not reach Afghanistan this year either. Certainly there isn't much sign of any urgency from the Pentagon, with yesterday's development deal amounting to no more than the purchase price of a single manned helicopter.
The fact is that combat supply is a primary mission for both US Army and Marine aviators, and the wings-on-chest crowd probably aren't very enthusiastic about having this task taken away from them: the more so as it would very likely lead on to robotic casualty evacuation, which would remove one of the main ways for a chopper pilot to win a medal for going in under fire.
As long as pilots run aviation, there probably won't be a massive amount of impetus behind projects like the autonomous skyhook: which is a shame, as they could save a lot of lives and money – and there can't be any real doubt that they could have been in service for years by now if the effort had been made. ®