This article is more than 1 year old
Dog fight game bitten with pro-PETA virus
Dog and bone Trojan
Supporters of the People for the Ethical Treatment of Animals (PETA) organisation may have embraced new measures in the fight for animal rights, allegedly releasing a malware-infected version of a dog-fighting app PETA wants banned.
Virus spotter Symantec says it found an infected pre-release version of Dog Wars on warez sites, though it was at pains to say the version of the game available in the Android Market is free of the malware.
Symantec said the compromised version of the game, Beta 0.981, looks almost identical to the original. The only difference is the word "Beta" has become "Peta", and a trojan has been attached in a file titled Dogbite.
When an infected device starts up, Dogbite runs a program called Rabies, which sends out text messages to everyone on the phone's contact list with the following message: "I take pleasure in hurting small animals, just thought you should know that."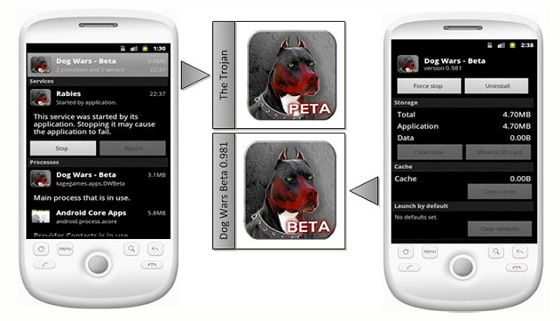 PETA lashed out at the app earlier this year, claiming it could be used to train real dogs to fight. The publisher, Kage Games, laughed off the allegation - "It's just a VIDEO GAME," it yelled - and refused to delist the game.
The animal rights organisation might be launching its own .xxx smut site, but Symantec reckons the Trojan was probably created by a lone PETA supporter.
"We have no reason to believe that PETA had anything to do with this app, and that it is most likely the work of someone attempting to associate the app with PETA or to gain sympathy by the association," it said. ®