US military police stationed at Fort Knox, home among other things to the United States Bullion Depository, are reportedly none too pleased at having to patrol in rather feeble solar-powered electric golf carts in line with Pentagon efforts to be more environmentally friendly.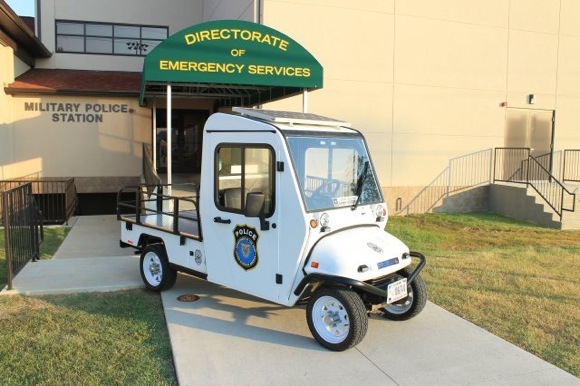 There's no escape from the long arm of the Fort Knox law. Unless you can go faster than 25mph.
"Most of the officers are reluctant to use the cart," reports the US Army Installation Management Command. Apparently the vehicles' top speed is only 25mph, and though they are fully equipped with flashing lights and windscreen decals reading "Army Green - Army Strong" they are thought to have a certain lack of cop credibility.
Nonetheless Lieutenant-Colonel Robert Schiller, top military cop at Fort Knox (which is a large Army base as well as housing just over 5,000 tons of federal gold) insists that the solar patrol-carts are a boon.
"It's a win-win situation," he says. "The cart is small enough to maneuver but large enough to hold a stretcher if there's a medical situation."
Bob Knoll, transport chief for Schiller's mil-cops, is also an enthusiast. He notes that before the solar panels were installed, the battery carts would often run flat after just 25 minutes' use.
"That's not helpful," he notes, adding: "If you have to plug it in, it's really not that green, is it?"
Now the carts apparently never need topping up, though this may be because the Fort Knox cops refuse to drive them.
Nonetheless Knoll describes the idea as "really cool – in many ways – it's really cool."
American readers worried over the security of their national gold reserves will be reassured to hear that apart from the military the bullion depository is also guarded by the United States Mint Police, who are equipped with bicycles. ®