David May, parallel processing pioneer
We salute the architect of the Transputer
Inmos: the rise and fall
Barron already had a scheme, hatched in conjunction with IT entrepreneur Richard Petritz and chip designer Paul Schroeder, both from the US. Together they ended up with £50m funding for an almost insanely bold new venture Barron sold to the government as a job-creation programme, the seed for a modern UK electronics industry and a bridge to the US market.
Inmos was born in 1978 with a five-year plan: spend that time - and a lot of money - developing and bringing to market a dedicated parallel processing chip, the Transputer, guided by May. But the company would start making money almost immediately by selling memory from its SRAM and, soon, DRAM factory established in Colorado Springs.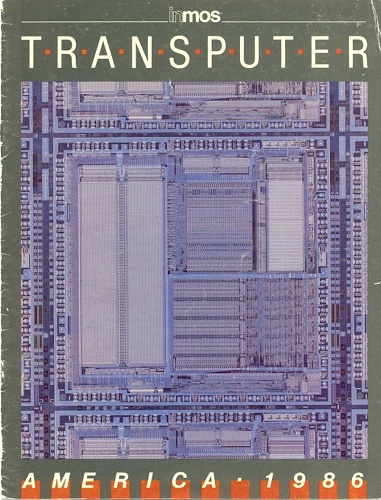 Promoting the Transputer: an Inmos brochure from 1986
Source: Dean Allum/Inmos.com
"The theory was that the static and dynamic Ram chips would be a very quick entry into the market," says May. "We had top-class Ram designers stolen out of Mostek. The memory story was right. If you can make a cheaper, faster products with the same interface as the competition the customers will buy from you. But the microprocessor has all the opposite dynamics. It takes a long time to design, a long time to establish, but once it's established the customer's locked in."
The multilingual - human and computing - polymath B Lee Jones remembers working as a systems programmer for the Colorado Springs facility. Jones gave the first US presentation of the Occam parallel programming language - May's EPL successor - to a DEC Symposium in 1981.
"David, Tony Hoare and the gang changed the whole computing paradigm," he says. "But it was too early, because a lot of people didn't get it."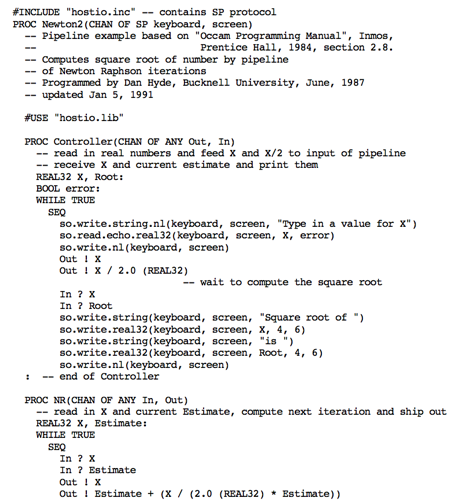 Occam source code
Source: Dr Daniel Hyde
His fellow workers at Colorado Springs certainly didn't understand what the Brits were up to. "There was this focus on getting from the 16K SRams to 64K DRams. Yeah, Occam and the transputer, OK, that's interesting... But we're in the Ram business."
And then the Colorado Springs memory cash cow created to feed the Transputer's long-term development, dried up when the Japanese started dumping 64K Drams on the US market in the early 1980s. Rival memory manufacturer and neighbour Mostek was the first to be hit. "I had a nice corner office overlooking the Mostek parking lot," says Jones. "I came in one Monday morning and there were no cars there. They'd shut down Mostek over the weekend."