This article is more than 1 year old
HP murders webOS tablets, phones
Confirms PC biz spinoff 'discussion'
HP has announced that it will discontinue its webOS TouchPad and webOS phones, just weeks after the arrival of the TouchPad and a little more than a year after the company acquired the webOS mobile operating system from Palm in a $1.2bn purchase.
In a press release floated before the company's quarterly earnings call, HP also confirmed that it is considering a spinoff of its PC business. In April, the company announced that it would bring webOS to PCs as well as new mobile devices.
Separately, the statement confirmed that HP is in discussions to buy enterprise software company Autonomy. The HP homepage, however, clearly says that the company is "to acquire Autonomy":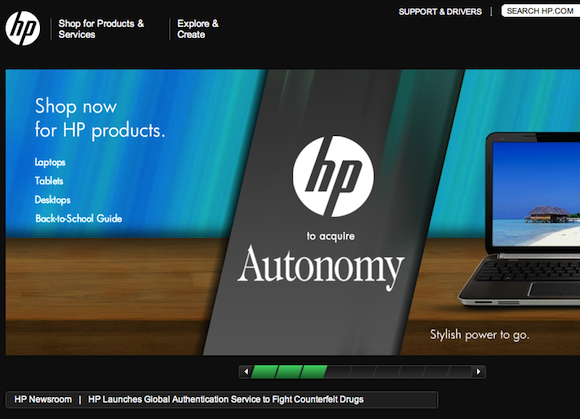 HP homepages as of 1pm Pacific time on Thursday
Earlier today, Bloomberg News reported that HP would be acquiring Autonomy for $10bn, and when contacted by The Register, the company declined to discuss the report, which also said that HP would spinoff its PC business.
"HP...plans to announce that its board of directors has authorized the exploration of strategic alternatives for its Personal Systems Group (PSG). HP will consider a broad range of options that may include, among others, a full or partial separation of PSG from HP through a spin-off or other transaction," read Thursday's press release from HP.
"In addition, HP reported that it plans to announce that it will discontinue operations for webOS devices, specifically the TouchPad and webOS phones."
The company said it would "continue to explore options to optimize the value of webOS software going forward."
This week, AllThingsD reported that US retailer Best Buy is sitting on about 250,000 unsold TouchPads, and HP had slashed the price of the tablet in hopes of selling more units.
In its press release, HP said that its fiscal third quarter revenues reached $31.2 billion, up from $30.7 billion a year ago. This is less than Wall Street analysts anticipated, and they will also be disappointed with HP's fourth quarter forecast, which puts revenues between $32.1 billion to $32.5 billion.
HP announced that its total fiscal 2011 revenue will be $127.2 billion to $127.6 billion range, which is less than its previous estimates: between $129 billion and $130 billion. ®
Update: This story has been updated with additional info from HP's press release and HP.