HP may not be selling quite as many TouchPad tablets as it might want to, but it's certainly not for want of trying. Hot on the heels of last month's launch comes a new, 64GB model.
Out in two weeks - in France, at the very least, if not elsewhere - the 64GB model is the one that emerged in early July in a leaked presentation slide.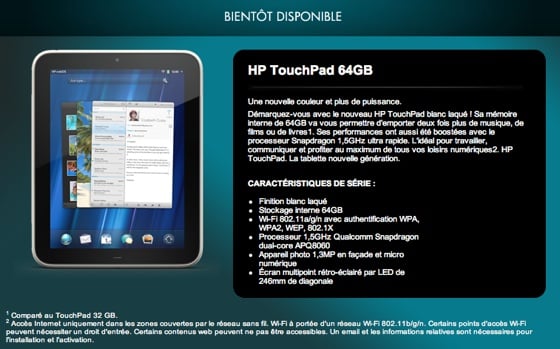 The leak mentioned an unspecified "processor bump" for the August-shipping fondleslab, and here on cue is a Wi-Fi only TouchPad with a dual-core 1.5GHz Qualcomm Snapdragon.
The current, 16GB and 32GB models - read our review here - have 1.2GHz chips.
And while they have glossy black plastic backs, the new model is shiny white - seemingly the most popular iPad 2 colour.
HP wants €599 (£521) for the new tablet, €100 more than the 32GB model, itself €100 more than the 16GB TouchPad. ®