Our Low Orbit Helium Assisted Navigator (LOHAN) project is beginning to gain momentum, and we reckon it's about time we looked into the explosive matter of the Vulture 2 rocket motor.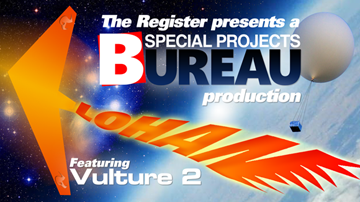 Rather handily, a large number of experts in the field will be gathered in Scotland next week for International Rocket Week, and I'll be popping down on Saturday 27 and Sunday 28 August to get some solid advice on the best way to put the rocket into ballocket.
At this point, we're keeping an open mind on just how our spaceplane will be propelled to high-altitude glory, but we do need to select a power plant ASAP so we can go on with designing the aircraft around it.
Similarly, we have to get our launch method sorted, since that will also impact on the plane's design. Our beloved readers have already given us their initial thoughts*, and some these concepts will shortly be made reality in a series of scale model tests.
Before that, though, I have to pack my bag and head off for some serious rocketry. If any of you lot are thinking of nipping down to the ballistic love-in, I'll see you there. ®
Bootnote
*One reader was so inspired by Dave Gurr's detachable wing idea, that he created this "epic multimedia sensation, better than Super 8 and Cars 2 put together!"