Motorola Atrix Lapdock
It's a... phone-book?
---
Double vision
While I junked the Facebook App Tray link within seconds of starting off, the File Browser and the Webtop version of Firefox (3.6.15) with its Flash support proved much more enduring. If you're in a territory that offers the latest Atrix Android update, then this comes with Firefox 4.0.1.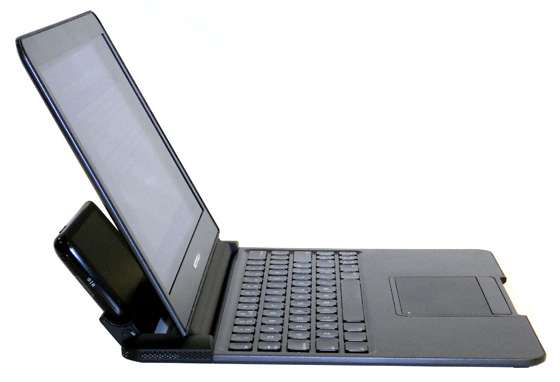 The display angle could do with going back a few more degrees for a better view
There's also a Motorola shortcut on the Webtop side that does little else than link to the Atrix site. It turns out you can add any URL or web application to the dock for quick access. You use the + symbol in the bottom right corner to enter in both name URL, which is a bit cumbersome, a slicker alternative is to use the 'Add this page to App Tray...' option in the Firefox bookmarks menu.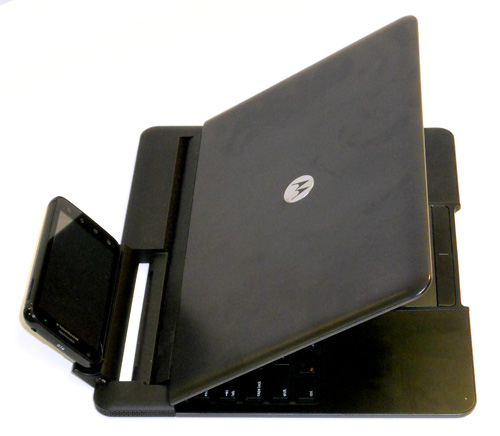 For wired headphones, you use the phone's socket
Using the Lapdock has certain amount of split thinking to it. You have the Mobile View, which has all the Atrix apps on show that can be seen portrait or landscape mode, mimicking the phone's layout. You can expand this to full screen but it is still the Mobile view because you're looking at the phone apps, only bigger now.
You can navigate the mobile apps by click and drag or with a combination of moving through the various screens and icons with the arrow keys and using the trackpad cursor to make selections. If you know what you're looking for though, just typing in a few letters will bring up a list of matching content, locally and, if you choose, on-line. Alt-Tab will move you through open apps too.
Double vision: mobile and Webtop browsers can be used simultaneously
Both the mobile and Webtop apps can be viewed and used simultaneously. If you try and run the phone browser, it will prompt asking if you want to use the Webtop version. However, you can have both running at once, which could be handy for a developer checking out how web pages look for both desktop and mobile displays. Talking of developers, the Webtop side of things is, apparently, based around Ubuntu Linux but you need to root the Atrix and run ADB to modify the Webtop environment.