Motorola Atrix Lapdock
It's a... phone-book?
---
Tilt and shift
The chiclet keyboard clatters a bit and its spacing took a bit of getting used to, but the keys seemed less of a challenge than a typically densely packed layout found on netbooks. Typing texts is a boon, but regardless of application, you'll be wanting to disable the trackpad when typing, as the cursor can flit around all over the place if you don't. A white light in the top left corner of the trackpad indicates it is active, double tap on it and the light goes out and the trackpad is deactivated – simple and effective.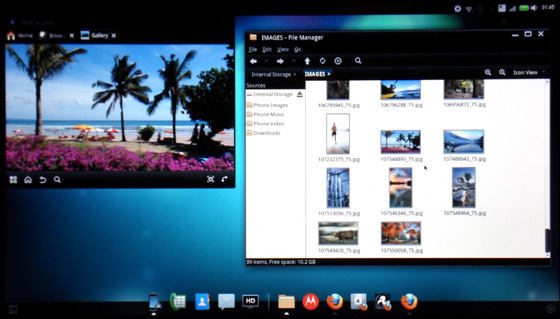 Mobile View's Gallery displays an image while the File Manager shows thumbnails of the handset's stored images
I tried dual approach to writing this article; typing into an enlarged view of Quickoffice running from the mobile apps and later moving to Google Docs on Firefox. Using Quickoffice soon turned into a bit of a bind with its limited editing functions, and its zoom text controls appearing on-screen every time you positioned the cursor anywhere. If you don't get on with the trackpad or toggling it off/on, attaching a mouse works without a hitch and there are speed and response controls available too. You can also plug in USB storage and the File Manager allows you to drag and drop documents between internal and external storage devices. It's all very easy and intuitive.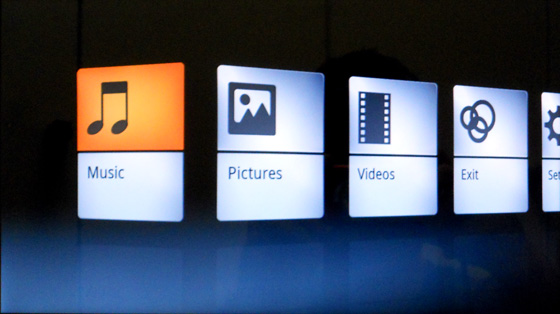 Media options from the Entertainment Centre
Personally, I wasn't too dismayed by the browser performance, which has received some criticism. Sure it's not lightning fast, but it does get there and I browsed for flights, accessed my Internet bank and ran the BBC iPlayer full-screen without a hitch. The latter did suffer image tearing from time to time, but stabilised after a while and the sound was constant.
One issue that you'll discover for yourself soon enough is the screen tilt angle – it just doesn't lean back far enough. It's OK for a coffee shop table if you push it away from yourself, but on the lap or a small desk you end up seeing a slightly washed out view of the screen as you're on top of it, looking down, rather than looking directly at the display. It's a pity really considering how this needn't have been an issue at all with some aforethought. Likewise the finish on the robust metal casing looks dreadful as soon as it gets the inevitable smattering of fingerprints.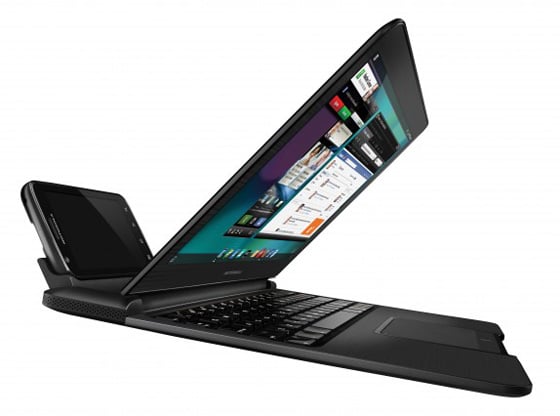 Phone aside, the Lapdock is certainly slim
The Atrix-Lapdock combo does work out as rather expensive, but I would like to think that its docking interface of just micro USB and HDMI ports will appear on other Motorola handsets, so that this accessory investment can be extended to forthcoming phones, much like the iPod/iPhone docking devices. Indeed, Google may even have its eye on the idea of turning this hardware set-up into some kind of Chromebook hybrid. Time will tell.
Verdict
For now, you get the benefits of a phone data connection in a netbook form along with Wi-Fi, Bluetooth and a full-blown browser. And when you want to be ultra mobile, then you have the Atrix phone which can be found along with its family of accessories on various cellco contract deals, which might help take the sting out of the cost of this curious combination. ®
Reg Hardware chooses its Accessory of the Week every Friday. Got one in mind you want us to consider? Please let us know
More Accessory of the Week Winners

iLuv ICK826
iPad 2 case and
Bluetooth keyboard
Octovo
Solis e-book
Reader Lamp
Sony
Exogear
Exomount
Kingston
DataTraveler
Ultimate G2
Jabra
Stone 2

Motorola Atrix Lapdock
Netbook-style docking station for the Atrix Android handset.