Brocade has reported its quarterly results with a disappointing outlook and found itself the target of an activist hedge fund investor, Elliot Management, scenting under-valued assets it can profit from.
For its third fiscal 2011 quarter, ending 30 July, Brocade's revenues were $503m, down from the preceding quarter's $548m, and also down from the year-ago quarter's $504m. Net income showed the same pattern but more starkly, with Q3 income being just $2m, compared to the previous quarter's $26m and the year-ago quarter's $23m.
There are two business units in Brocade. The Ethernet business accounted for $168.5m of its revenues, up 13 per cent year-on-year, and with service providers and enterprise customer sales rising 28 per cent but federal sales falling 33 per cent, although federal sales did rise 32 per cent compared to the previous quarter.
There was no such compensating factor in storage sales, which accounted for $334.3m, a 6 per cent annual decline. Brocade said its OEMs reduced their Fibre Channel inventories and end-user demand for its storage products declined.
CEO Michael Klayko said: "Headwinds in the IT market, federal spending, and overall global economy made for a challenging quarter for the company."
If the US public sector and general business suffers a cold, then Brocade gets pneumonia. Investors are seeing this as a possible early sign of a looming double-dip recession pattern. Further unnerved by NetApp's results and HP's outlook, they are beginning to take flight from storage and tech stocks.
However, some investors think Brocade's management is responsible for some of its woes and one of them, activist hedge fund Elliott Management, seems set to agitate for change.
Eliot and Brocade
Elliot Management, with an 8.5 per cent holding in Brocade, has form as a change-inducing investor for corporations it perceives as underachieving with potentially valuable assets. It was Elliot's agitating that caused Iron Mountain to close its eDiscovery and cloud storage business. Before that, in 2010, Elliot amassed an 8.5 per cent stake in Novell and mounted a bid to take it over for $2bn. This failed, but Novell was subsequently sold to Attachmate for $2.2bn.
Brocade looks to have an activist investor's teeth buried in its ankle and the board will now have to actively examine strategic alternatives to realise investor value, meaning sell the company as the last resort. It seems likely that Elliot will push for board-level representation and get the board to bend executive management's efforts to sharpen up its attitude to increasing shareholder value, either by better management of Brocade's operations or by selling the company.
If the US public sector and general business suffers a cold, then Brocade gets pneumonia
In the results release, Klayko said: "We recognise that there are opportunities to optimise and improve our business. We have already taken, and will continue to take, important steps to generate growth, improve our profitability and make ourselves more efficient." He knows what's coming from Elliott and, no doubt, is not looking forward to it one bit.
It is thought Brocade has been trying to sell itself for up to two years via Frank Quattrone's Qatalyst Partners, the firm that was involved with the 3PAR and Data Domain acquisitions and with HP's purchase of Autonomy. Acquisitions of Brocade by both IBM and Dell have been rumoured, although Dell is out of the running as it has just bought Force 10 Networks.
Potential purchasers include IT server companies looking to add a networking capability to existing server and/or storage businesses. Oracle is one such company and IBM is another. HP has its existing ProCurve networking business. Cisco might also buy Brocade to take out a competitor and gain control of the Fibre Channel networking market, although anti-trust issues might hinder that.
Another networking company, such as Juniper, wouldn't face such issues and could be a Brocade acquirer.
Brocade CFO Richard Deranleau left in June by the way, to pursue other interests.
Brocade and IBM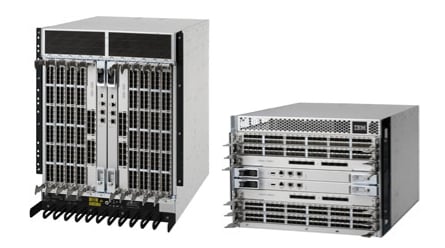 IBM SAN768B-2 & SAN384B-2 fabric backbone directors from Brocade.
Meanwhile, on the good news front, IBM has announced a slew of 16Gbit/s Fibre Channel networking gear based on Brocade kit. These products are twice as fast as the current 8Gbit/s Fibre Channel ones, and include:
SAN768B-2 and SAN384B-2 backbone with up to 348 16Gbit/s ports or (SAN768B-2) and 192 such ports (SAN384B-2)
SAN48B-5 SAN switch, a IU box with 16 16Gbit/s ports.
IBM also announced its Network Advisor – providing centralised management of data fabrics – including the new 16Gbit/s products – as well as IBM's existing FC switches, directors, and HBAs and Converged Network Adaptors using Fibre Channel over Ethernet. It can manage from 4 to 24 fabrics and from 2,560 to 9,000 ports.
It will help Brocade if IBM and its other OEMs upgrade their Fibre Channel fabrics to 16Gbit/s speeds as quickly as possible. The slowdown in OEM and end-user storage demand suggests this is not going to happen quite as quickly as Brocade might wish. ®
Similar topics