Hang on
But hang on – aren't toll roads pretty common everywhere in the world already? The justification shifted once again: Facebook shouldn't be able to withhold its service from an ISP by demanding money. Maybe they should try it, I suggested, as they wouldn't need to scrape and hoard so much personal information. It almost sounds like an honest business model.
Nevertheless, the paper threatens that "privileging certain types of content or throttling download speeds on certain websites will lead inevitably to regulation". Perhaps this is somewhat optimistic.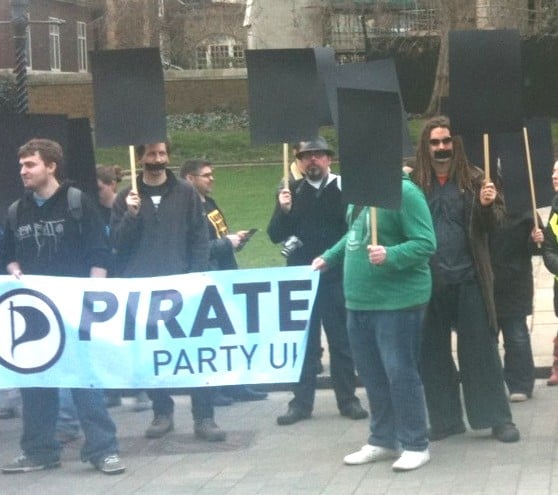 Friends of Julian: protesters against the Digital Economy Act at Westminster last year. Huppert wants all the copyright infringement provisions repealed.
In addition, the LibDem paper casts doubt on all empirical evidence that piracy has a negative effect on creative industries, and proposes a new study to produce the answers desired. A move to allow the free public access to "the BBC archive wherever possible" was dropped from the published draft, El Reg understands.
I asked Huppert if the LibDems had done a costing of the suspension of IR35? "We don't have the resources," he said.
"In an ideal system there wouldn't be such loopholes. I can understand why IR35 was invented. But it clearly doesn't work very well, causes a large number of problems, and doesn't collect very much revenue. "
A bit like the 50p tax, then?
Julian laughed.
The LibDems will vote on a Policy Motion (F28) on Monday, 19 September ®
Related link
Preparing the Ground: Stimulating Growth in the Digital Economy - Policy Paper 101 (pdf)