This article is more than 1 year old
RIM BlackBerry Bold 9900
The latest in riot gear
Review With Android steaming ahead of Apple in terms of sales, and Windows Phone 7 soon to launch on Nokia handsets, RIM has got its work cut out to make sure BlackBerry can stay relevant and desirable in these fast-paced times.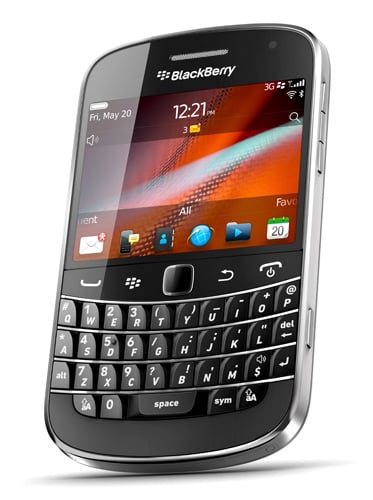 The slimmest BlackBerry yet: RIM's Bold 9900
The company has just announced three new handsets, including a couple of full-screen Torch models. But the first out of the traps is the Bold 9900, which combines a touch screen with a hard Qwerty keyboard. Does it mark a bold new step for BlackBerry? Well, not really…
The BlackBerry Bold 9900 looks very similar to Qwerty-packing BBs of old, though it's perhaps a little bigger, a little sleeker. It measures 115x66x10.5mm, weighs 130g and looks very classy with its glossy black plastic casing, tough carbon-fibre back cover and brushed aluminium trim. Beneath the screen the standard BlackBerry control buttons (call start and stop, menu and back) sit on either side of an optical trackpad and beneath those is a 35-key Qwerty keyboard.
The keys are angled so they're easily defined under the thumbs and it's easy to get up to impressive typing speeds. The numbers are arranged in keypad style rather than stretched across a single line, which also means you can get to them a little easier with one thumb. The keys are brightly backlit too, making it very easy to use in the dark.
RIM says the 9900 is its thinnest handset yet, and it looks even thinner thanks to its tapered back. Around the sides are a programmable 'convenience key' (which defaults to camera shutter button), volume buttons surrounding a mute key, plus a microUSB power/sync port and a 3.5mm headphone jack. On top is a sleep/screen lock button.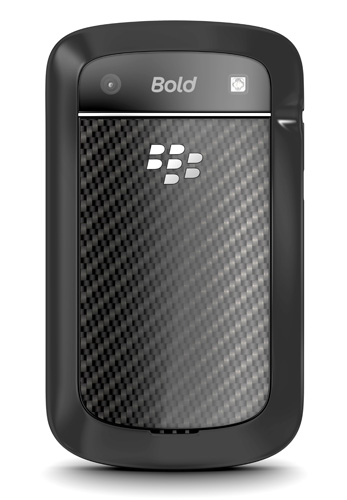 There's 5Mp snapper round the back but no front facing camera
The nicely sensitive 2.8in capacitive touch screen offers 640 x 480 pixels – a considerable leap from the Bold 9700's 480 x 360. It also feels considerably bigger than the 2.6in of its Qwerty rival, the HTC ChaCha.