This article is more than 1 year old
BlackBerry Curve 9360 hits UK
All fingers and thumbs
Hands on RIM has launched the BlackBerry Curve 9360 in the UK, featuring BlackBerry 7 OS and BBM6, the company's fuel in the crowd jewel-in-the-crown messenger service.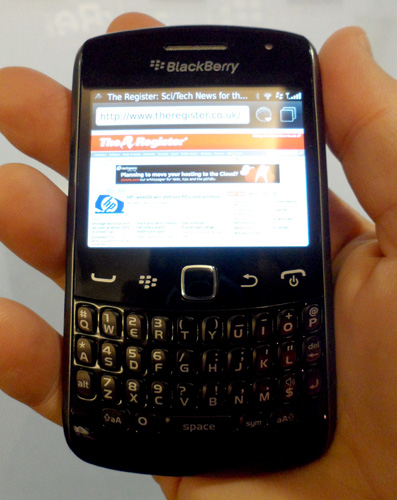 Curve handsets are RIM's most popular smartphone both globally and in the UK, and the company has high hopes that this revamp will sustain its appeal. Indeed, at the UK press briefing this morning it was evident that the BB's adoption in the yoof market is a driving force.
"Curve users are key to our success," said Rob Orr, VP, EMEA Product Manager, stressing that the Curve was designed to address, "users' desire to have a fashion accessory", adding that this smartphone had "beauty, approachability and style at its heart". Most of us would hope there was a decent CPU in there somewhere too.
With dual core BlackBerrys still on the wish list, the mid-range Curve features an 800MHz processor, 512MB RAM, micro SD card storage support up to 32GB and a 5Mp camera. The 2.44in 480 x 360 screen has a 246ppi resolution. In use it's bright and sharp but just about everyone in the room ended up tapping this non-touchscreen when using the handset.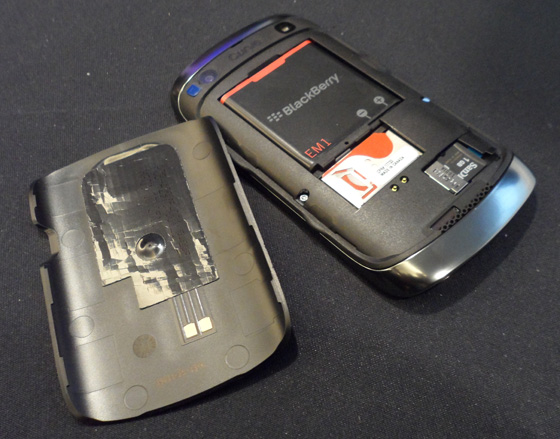 The backplate houses the NFC assembly
Web browsing wasn't exactly speedy, but it wasn't a crawl either. The movie trailers on-board looked impressive too, but there's no escaping that it is a small display and if you're keen to record video, there are no HD niceties here, just VGA capture.
In the hand, the feel of the 109 x 60 x 11mm Curve 9360 gives no cause for concern and its certainly no heavyweight. The optical trackpad gets you round RIM's latest OS very swiftly, with only minor moves to adjacent icons proving to be the sticking point. There's bound to be a knack to it, but slight trackpad movements still seem to either do too much or not enough.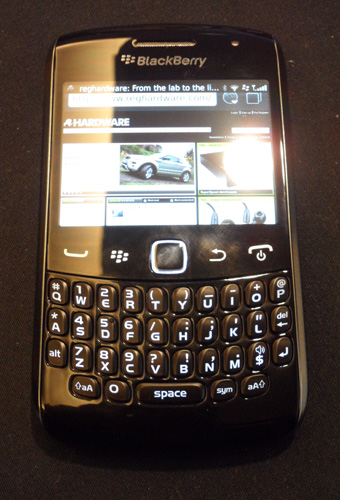 Talk time is 5hrs with a maximum of 14 days on standby and along with Wi-Fi and GPS, NFC functionality is on-board too, affixed to the inside of the back plate. Certainly the Curve has appeal and those already sold on the BlackBerry modus operandi should be satisfied with this refresh, while those new to the platform will be tapping those screen icons until they learn old new habits.
Available in September, the BlackBerry Curve 9360 pricing details have not been announced. ®